Dear CSN Family,
I have much to share this week on a wide range of topics, from recently passed budget cuts to our reopening plans, employee furloughs, student fees and our upcoming Convocation celebration. Today, a special Board of Regents meeting is scheduled for 1 p.m. Regents are expected to formally enact policies regarding employee furloughs and student fees that were previously adopted on an emergency basis to deal with budget cuts.
Special Legislative Session Outcome
As I reported last week, NSHE budget cuts of $25 million passed the Legislature. The impact on CSN will be an additional $1.6 million in cuts. As you will recall, we have already taken cuts of $17.5 million for fiscal year 2021, excluding faculty and staff furloughs. We plan to discuss the budget in more detail at the next Town Hall meeting at 1 p.m. this Friday, July 24.
The Board of Regents will vote on a furlough policy change that will allow institutions to enact state lawmakers' mandate that all state employees take one unpaid furlough day per month. Similarly, the student fee proposal will formally implement a temporary per-credit surcharge for all NSHE students. At CSN, that will translate to an additional $3 per-credit charge.
Return to Campus
All institutions, including CSN, will also present our formal campus reopening plans. As you will recall, we plan on a combination of in-person, hybrid and online courses this fall. Safety restrictions will be in place, including mandatory masks, social distancing, deep cleaning protocols and plexiglass in some areas, among many other measures. We want to ensure the safety and well-being of everyone on our campuses — faculty, staff, students, vendors and visitors alike.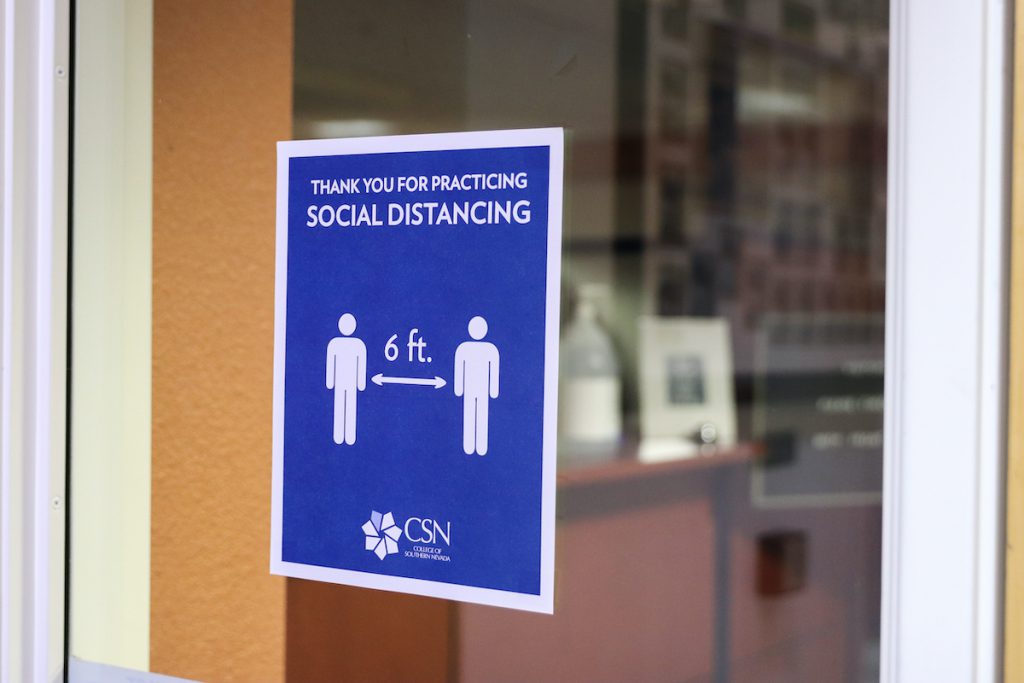 I also want to point out a new memo from the state Division of Human Resource Management regarding mandatory masks and potential exceptions under the Americans With Disabilities Act. Those who may have a medical condition that prevents them from wearing a mask should review this memo carefully. Any questions can be directed to Human Resources.
Convocation
We are also busy planning this year's Welcome Back and Convocation celebration. Convocation week will be August 15-21, with our celebration scheduled for Monday, August 17. The Adjunct Conference will be combined with the week's activities. As we've noted in our town hall meetings and elsewhere, this year's events will be entirely virtual. This digital, streamlined experience will be available via Microsoft Teams. You will be able to view events such as the awards ceremony and the State of the College speech, attend CAPE sessions, and interact with one another.
Teams will allow for interaction before, during and after conference sessions, and participants will be able to access and review materials within the Teams interface. All sessions will first be broadcast live, and then uploaded to the Teams site for easy access by the CSN family to review if participants are unable to attend live, or if they want to see any aspect of it again. Each day will have its own Teams channel to make it easy for participants to find the event or workshop they're looking for.
Please look for much more information on Convocation as the date draws closer.
Town Hall
Finally, I again want to encourage you to attend our town hall scheduled for 1 p.m. Friday. This week's event will focus primarily on the budget. Government Affairs Director Mariana Kihuen, Vice President of Finance and Administration Mary Kaye Bailey and Chief Human Resources Officer Dr. Bill Dial will join me to answer your questions.
Stay safe and God bless.

Federico Zaragoza
President
College of Southern Nevada