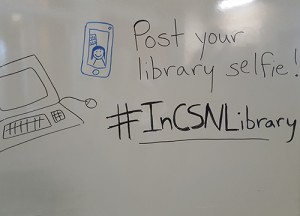 Do you like to share your photos on social media?  So do we!  Your CSN Library is now on Instagram @csnlibrary to keep you up to date on what we do each day, offer insightful study information, and share contests that you can participate in!
To celebrate the launch of our new social media platform, we're  hosting a contest to show what you are doing in the library at CSN. Take a picture of yourself inside the library and tag it with #InCSNLibrary. The CSN librarians will be voting on our favorite fun photo at the end of the semester, and the student winner will receive a gift card to the CSN bookstore.
Make sure you post your photos before May 14. For questions, contact stephanie.espinoza@csn.edu.
See you on Instagram!