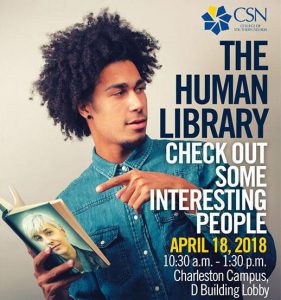 As part of CSN's mission to create opportunities and enrich lives with inclusive learning and working environments that support diversity and student success, the Queer Inclusive College Campus (QICC) committee invites you to "check out" fellow students, faculty, and staff for:
The Human Library Event: Wednesday, April 18, 10:30AM-1:30PM, Charleston Campus, D Building Lobby
The Human Library functions similarly to other libraries except that in the Human Library, people—rather than books—are available for checkout. "Human books" are persons who have volunteered to challenge prejudices through respectful conversations with members of the community who decide to "borrow" them. This year, the Human Library event expects to share "books" offering the following experiences:
Being transgender in the military

Being a DACA student/Dreamer

Surviving suicide in the family

Living with mental illness

Surviving in poverty and homelessness

Living in the US as a refugee

Experiencing sexual assault or harassment

Living with a disability

Experiencing prejudice as a police officer

Living within intersectionality

Experienced prejudice due to issues such as race, sex, age, disability, sexual preference, gender identity, class, religion/belief, occupation, lifestyle choices or other aspects of who you are
The purpose of this event is to build a positive framework for conversations that can challenge stereotypes and prejudices through dialogue within our vibrant, diverse community here at CSN. The Human Library event is meant to be a place where real people are on loan to readers looking to gain a better understanding of new, different, or unknown lived experiences. It is also a place where difficult questions are expected, appreciated, and answered; therefore, we hope you will join us and celebrate the many facets of life that make us a truly open and inclusive college!
For more information about what to expect from this event, see last year's catalog here.