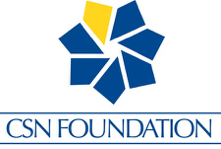 The CSN Blooming in Blue Gala will help raise funds for the new health and science building at   Henderson Campus.
LAS VEGAS, Feb. 28, 2018 – The College of Southern Nevada Foundation is proud to announce the return of its fundraising gala on April 7 at the Rio All-Suite Hotel & Casino and the honorees who will be celebrated.
The gala, the Foundation's first in four years, will help raise funds for the new health and science building proposed for construction at the CSN Henderson Campus. The facility, which CSN will share with Nevada State College, will allow both institutions to expand their nursing and other medical-related training programs to meet the growing demand in Southern Nevada for more healthcare professionals.
The theme of the event is 'Blooming in Blue' to convey Southern Nevada's expanding and enhanced progress in economic and community development, of which CSN's more than 60,000 students play a significant role each year.
At the gala, the CSN Foundation Board of Trustees will present three awards:
Community Achievement Award
Rossi Ralenkotter
Las Vegas Convention and Visitors Authority CEO
The CSN Foundation has selected Rossi Ralenkotter to receive its Community Achievement Award to honor his continuous work in developing Southern Nevada's post-recession economy, strengthening our valley's international prowess in hospitality and customer service, building a market for medical tourism and more.
Community Education Award
Switch
The CSN Foundation has selected Switch to receive its Community Education Award to honor the innovative company for its work to promote STEAM education in Southern Nevada. Officials throughout the company regularly engage with students at CSN and other Nevada education institutions to show how science, technology, engineering, arts and math can lead to exciting, high-demand and high-value careers.
 Community Hero Award
First Responders, as represented by CSN alumni
The CSN Foundation has selected first responders to receive its Community Hero Award for the bravery and highly skilled response to crisis that these individuals have demonstrated. CSN will present a group of CSN alumni nurses, EMTs, police officers and firefighters that were involved in the Oct. 1 response with the Community Hero Award to honor all first-responders for their courage and commitment to the health, safety and wellness of this community.
2017-18 CSN Foundation Board of Trustees
John Hester, Chair, Southwest Gas; Terry Shirey, Vice Chair, Nevada State Bank; Matthew Frazier, Secretary, John C. Kish Foundation; Jeffrey Cooper, Treasurer, Bradshaw, Smith & Co.; Patricia Gilliano, Spring Valley Hospital & Medical Center; Ken Goodrich, Red Falcon Equity; Chuck Johnston, B&P Advertising; Joe Lotito, Trade Consulting; Seth Maurer, CORE; Melissa Meacham-Grossman, ESPN; Daniel J. Minella, DynTek; Paul Moffat, Arista Wealth Management; Edgar Patino, NVEnergy; Mike Purtill, Tate Snyder Kimsey Architects; Reed Radosevich, Northern Trust; Melissa Walker, Dignity Health; James York, Valley Bank; and Missy Young, Switch
About the CSN Foundation:
The mission of the CSN Foundation is to support the strategic initiatives for the College of Southern Nevada by raising funds for facilities and capital improvements, scholarships, educational programs and faculty requirements.
The CSN Foundation is grateful to Blooming in Blue Major Sponsors:
Breakthru Beverage Group
Ellucian
Encore
John C. Kish Foundation
Switch
CORE
MGM Resorts International
Northern Trust
Rubrik Inc.
Southwest Gas
Arista Wealth Management
Schneider Electric
Valley Bank of Nevada
WG Communications
B&P Advertising
R&R Partners