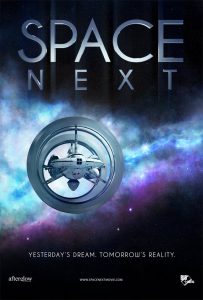 Members of the media are invited to a special pre-screening event
LAS VEGAS, Aug. 23, 2016 – CSN invites members of the media to attend a screening of the film "Space Next" at the CSN Planetarium.
The film explores the history of space travel and the possibilities of private space developments and national space programs in the future.
Who: Members of the media and their families. Press kits will be provided.
What: Press screening of new show "Space Next"
When: 11 a.m. Friday, Aug. 26 for press screening. The show opens to the public Friday, Sept. 2.
Where: CSN Planetarium, CSN North Las Vegas Campus, 3200 E. Cheyenne Ave.
For more information about "Space Next" visit www.spacenextmovie.com.
About CSN:
Founded in 1971, the College of Southern Nevada is the state's largest and most ethnically diverse higher education institution. CSN is accredited through the Northwest Commission on Colleges and Universities and specializes in two-year degrees and workforce development that lead directly to high-demand careers or transfer to a university. It also offers four bachelor's degrees in specialized fields and is the state's largest provider of adult basic education and literacy training. CSN is a Minority Serving Institution and Nevada's first Hispanic Serving Institution.
CSN's students create flexible schedules with day, evening and weekend classes taught on three main campuses and multiple locations throughout Southern Nevada or online. CSN — your future starts here. CSN is an Equal Employment Opportunity/Affirmative Action institution. For more, visit www.csn.edu.
About Afterglow Studios:
Afterglow Studios was founded in 2007 by Luke Ployhar as a Digital Animation and Post Studio. Ployhar has worked in visual effects and animation for over 15 years, with credits that include "Minority Report," "A.I.," "Planet of the Apes" and many other feature films. With the ever-changing digital landscape and needs for a multitude of media outlets, Afterglow Studios provides cutting edge visual effects, animation and design. After working on several giant screen films providing effects and post solutions, Ployhar and Afterglow Studios decided to venture into feature film-making. "Space Next" is Afterglow Studio's first production for the giant screen industry.