This June Chronicle wraps up the academic year with information, particularly on the close of the 77th Regular Session of the Nevada Legislature.     
Graduation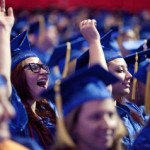 On Monday, May 20, CSN's commencement ceremony was held at the Thomas & Mack Center for a record 2,735 students, according to preliminary numbers. Nearly 1,000 attended and received their certificates or degrees. 
Gala
The CSN Foundation sponsored its annual Legacy of Achievement Gala at the Rio Hotel on April 28.    More than $300,000 (net) was raised for student scholarships. I would like to thank the Foundation Board of Trustees, Jacque Matthews, Mary Thomas, the Foundation staff, and all of the volunteers for another successful evening — the best event of its kind in Las Vegas!    
Cultural celebrations for our graduates were held for the first time this year.  Events for Asian, Latino, African American, and Native American students added to the festive occasion of graduation as spring semester ended.  Many, many people worked countless hours to make these events successful for students and their families and friends.  We appreciate the work of the event organizers for a wonderful series of celebrations.
Reflections of Success and other events
It has become our habit — and a great habit it is — to end each academic year with expressions of gratitude for our CSN faculty and staff. You work throughout the year to help students,
and before long, years of service become decades of dedication to CSN. This year, Reflections of Success gave us an opportunity to say "Thank you!" to dozens of outstanding faculty and staff.
Our annual Retirement Luncheon expressed appreciation to 21 colleagues retiring this year.  Our new event, "Final Stretch Fairs" gave us an opportunity to share information and to celebrate student success.  Indeed, spring semester ended with a flurry of wonderful activities organized by remarkable people like Michelle Word, Suzan Workman, Annette Lord, the academic deans, Dan Gouker, Michelle Fogg, and the Internal Recognitions Committee, chaired by Jodie Mandel, and many, many others who worked so hard on these events.  THANK YOU TO ALL!
The 2013 Outstanding Student Awards celebrated the success of students in 21 academic departments.  Over the years, this event has become a favorite at CSN as students share their remarkable stories and express their dedication to achieving an education. We met families and friends, and recognized the outstanding academic achievements of many wonderful people.  It is inspiring to hear of the struggles, sacrifices, and accomplishments of our students, particularly the influence of our faculty and staff on their lives.  Thank you all for your dedicated service! 
 Legislative Report
** Final approval is contingent upon adequate state revenues and gubernatorial approval**
Today marks the end of the 77th Regular Session of the Legislature, during which lawmakers enacted transformational higher education legislation. They eliminated the 2.5 percent salary cuts, continued six days of furlough for each year of the biennium and provided the opportunity for merit pay in FY 2014-2015. Additional details are described below, but again, please note that the governor has yet to approve the funding formula and future changes may still occur.
Under the formula that legislators approved for funding colleges and universities, CSN will receive about $7 million of new money for the biennium.
Under the new formula, state funding for higher education will now be based on actual course completions rather than enrollments. Lawmakers also approved a performance pool. Beginning in the second year of the biennium, 5 percent of our general fund will be based on meeting certificate and degree goals specific to Nevada's community colleges. That 5 percent will increase by 5 percent each year and will be capped in FY 2017-2018, when 20 percent of our general fund dollars will be dependent on meeting the state's degree and certificate targets.
It is important to note that CSN will still be the lowest funded institution per student in the state. Although the college received the largest boost of any NSHE institution under the new formula, which the governor must still approve, the new money is extremely needed. 
As you are aware, the college's enrollment has recently declined. This has resulted in an expected registration and tuition fee shortfall of approximately $4.5 million. We have planned to absorb this deficit in the coming biennium as we continue to make strides to strengthen retention. Community colleges across the nation experienced unprecedented increases in enrollments during the height of the recession that are now stabilizing. In addition, at CSN, we have been implementing significant initiatives to advance student success that have and will likely continue to impact enrollments further as our student culture adapts. The new funding will be important to support our efforts to maintain access to higher education for the community and help our students thrive at CSN.

If the formula is approved by the governor, the remaining balance of the new funding will support

:

Academic and student affairs intervention strategies
Enrollment management implementation to help us protect access and stabilize enrollment
 

Some restricted funds "pass through" to support employee compensation, specifically insurance rate increases that are the responsibility of the college. 
Implications:
We will continue to honor our commitment to address salary inequities and compression problems. We have completed an Request for Qualification (RFQ) to identify potential vendors to perform a salary analysis. The Request for Proposal (RFP) is being finalized and we will shortly complete the vendor selection process. This third-party vendor will help analyze the problem and provide recommendations for solutions. Faculty leaders are part of the committee to select the vendor.
We will continue our Achieving the Dream and other student success initiatives as CSN transitions from access and enrollment growth to completions and student success as the new funding formula and performance metrics require. 
We will continue to improve the physical environment of our campuses to create a welcoming place for students and visitors.
We will continue to strengthen operations and infrastructure to support student success, from the point of admissions, through advisement to transfer or graduation.
Questions from Faculty and Staff Members: 
"What legislative goals were achieved this year?"
We approached the 2013 session with four goals that paralleled those of the Board of Regents:  1) restore salaries, 2) eliminate furloughs, 3) adopt a new funding formula, and 4) improve PEBP.  As mentioned above, lawmakers restored 2.5 percent of the salary reductions that state employees received during the recession. The six furlough days for each fiscal year will continue.  The new funding formula was approved and funded by legislators. PEBP will operate the same for the next two years. Please note that all of this is subject to gubernatorial approval and may change further. 
"What happened to the legislation that would have removed community colleges from the Board of Regents and placed them under the state Department of Education?"
Senate Bill 391 was amended to create an interim legislative committee to study community college governance and funding.  The bill was approved by the Assembly and Senate but has yet to receive the governor's signature. It would require the committee to create two subcommittees, including one on governance and funding and another on academic and workforce alignment. Although the legislation does not specifically mandate community college membership, there are a variety of stakeholders who would be appointed to serve, including representatives from the Legislature, the Board of Regents, K-12, local governments at the county and city level, the Office of Economic Development and the Department of Employment, Training and Rehabilitation.
Their task would be to review the mission of each community college in the state and whether it is advisable to transfer the administration from the Board of Regents to another government entity.
Supporters of the legislation cited that fact that Nevada is one of few states in the nation where control is vested at the state level. Again, this is contingent upon gubernatorial approval. We are watching this closely and will provide more information on the study as it becomes available. 
"What is the status of the work climate findings and the committee making recommendations on the survey results?
The results of the work climate survey are with the Work Climate Committee.  The committee met twice before school ended and will meet again next week. They will then resume their work in the fall. I anticipate they will provide a comprehensive report on the survey during fall convocation. 
"Are we through with site closures and budget cuts?"
We anticipate no closures this year. We are carefully developing and monitoring the budget for the next biennium, as enrollment fluctuates and we acclimate to the new revenue structure based on course completion.  At the same time, salary issues mentioned above have high priority. We are setting aside base funding to address these issues, in a phased approach, including our salary equity and compression problem.    
Have a great summer!
 –Mike Richards