Outside our classrooms and work areas much is going on that you'll want to know about.  I hope your is semester going well as we move toward the midpoint of spring semester. The following Chronicle address recommendations for the salary equity study, potential increases to tuition and fees for students, the legislative study on community college governance and funding and more. Please read it and share with your coworkers.
Upcoming events:
Wednesday, Feb. 26:Career Services Presents: Keep Calm and Get Your Resume Reviewed, 10 a.m. to noon, Cheyenne campus, main building lobby, Henderson campus C Building lobby, and West Charleston campus, D building lobby.

Friday, Feb. 28: Second Supplier Inclusion Networking Event and Workshop, 7:45-11:30 a.m., CSN Cheyenne Campus, Morse Arberry, Jr. Telecommunications Building.
International Coffee House: Language Immersion, 10 a.m. to noon, West Charleston campus, D building lobby.
Friday Night Cultural Event Series Spring 2014, New Beginnings Credit Repair, 7:30 p.m., Henderson Campus, Building C, room 133.
For more information about upcoming events, go to CSN.edu and click on the event calendar.
Salary Study
The outcomes and implementation of the salary transition and compression study conducted by Ulibarri-Mason Global (UMG) are now known and are being implemented. 
First, I would like to express deep appreciation to the faculty and staff who served on the two Salary Study Transition Management Teams.  Special thanks to Darin Dockstader who chaired the Academic Committee and Christopher Brown who chaired the Administrative Committee. The committees contributed to a critical effort on behalf of CSN and its employees. Your work yielded major improvements in CSN's salary models. 
Facilitating the work of the teams and UMG were John Scarborough and Anita DelCorio.  Both worked tirelessly and thoughtfully on the complex issues of the study.  Know that our HR office has been a champion for resolving the transition and compression issues of employee salaries.  Thank you John and Anita!
This past academic year, the Board of Regents approved a new salary structure/schedule for academic faculty for community colleges. As CSN prepared to make the transition to the new salary structure, we also sought to simultaneously address compression issues that have emerged over the past seven years. We brought in an external and impartial third party to help CSN fairly address compression as it implements the new schedule and develop an implementation strategy that allows the institution, with its limited funds, to address this issue in phases. Additionally, we asked our consultant to look at administrative faculty compensation and to build on the work accomplished via an administrative salary study conducted in 2008 to identify and further address issues of classification and compression for administrative faculty members.
CSN will implement the general recommendations of the study in two cycles, one for the current contract year and one for the next. 
Because individual circumstances will vary, Human Resources staff will issue personalized letters to every full-time faculty member, academic or administrative, to describe the impacts, effective dates, and other details for the salary implementation.  Once you receive your letter from HR, if you have questions or wish to appeal decisions affecting you, HR staff can assist.
Because the Faculty Senate and Administrative Faculty Assembly were so integral to the study, you may also receive communications from the leaders of those groups.
SB391 Interim Study
The next meeting for legislative committee to study community college governance and funding is tentatively scheduled for March 11 for the governance and funding subcomittee. The next day, March 12, the academics and workforce subcommittee is meeting.  We are not sure of the agenda for the March 11th meeting.  CSN has offered presentations at the March 12th meeting on workforce programs and our apprenticeship program and trade union relationships. Both meetings will take place at the Grant Sawyer building and we will follow up with you afterward to keep you informed.
From the study committee, CSN would like to see a recommendation to the Legislature for a need-based financial aid program and for a workforce development fund. 
Budget Request for 2015
Priorities for the 2015 legislative budget request are beginning to emerge.  The budget request will be approved by the Board of Regents at its June meeting.
Top priority is faculty and staff compensation, including the elimination of furloughs.  NSHE and other state employees will receive compensation changes in a standard approach.
For NSHE, a top priority is increasing the value of the weighted student credit hour in the funding formula.
We expect that the capital budget will allocate approximately $120-140 million statewide for construction projects, including renovations and deferred maintenance.  The Board of Regents will also finalize its capital budget priorities for its eight institutions in June.
There is some interest in creating a capital budget formula similar to those in other states.  CSN would support this suggestion. 
Tuition and Fee Recommendation and Expenditure Plan
Following two years with no increase in registration fees, the NSHE Tuition and Fee Committee is recommending a 4% registration fee increase for resident community college students each year of the 2015-17 biennium.  In other words, starting fall 2015, the registration fee will go up 4% each year. The current registration fee is $84.50.  The proposed fee increase would result in an increase of $3.50 per credit hour in year one and an additional $3.50 per credit hour in year two.  The new fee would be $88.00 and $91.50 for 2015-16 and 2016-17 respectively.
The new fees are badly needed to help bolster student support services that facilitate our student success mission. CSN proposes to use the fee as follows (Click on the image to see all three columns):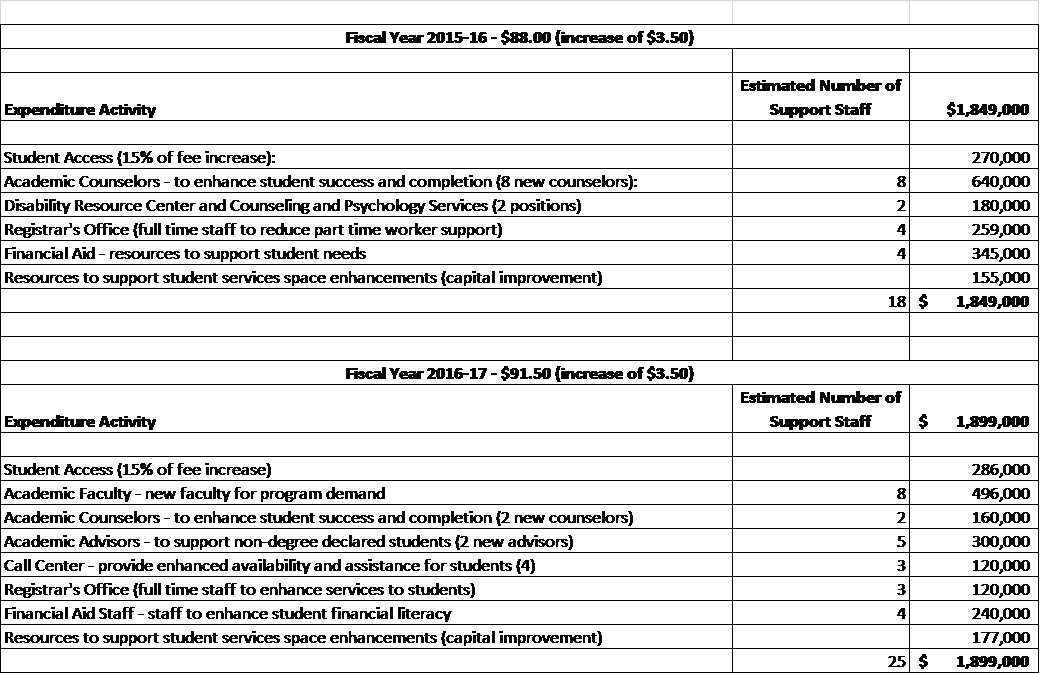 Reflections of Success
This year, CSN will not host a Reflections of Success event in May as we have for the past two years. Staff have spent the last few months, trying to find a viable date and venue with no luck with so many other wonderful happenings this spring, including commencement celebrations, Connections events, the annual retirees' luncheon, the WACUBO conference in Las Vegas and more.
In lieu of the Reflections event, CSN will do a yearbook to highlight faculty and staff accomplishments over the past year and distribute those to academic departments in early May. This was one of the many wonderful recommendations that came out of the Work Climate Committee in December.
As many of you know, the Reflections event served as an end-of-the-semester celebration for all of our employees to honor various award recipients. We will announce all of these, including the Excellence, Distinguished and Service award recipients at our Convocation kickoff in the fall on Aug. 18.  As a reminder, all Excellence award nominations are due by March 14 and the Distinguished Employee of the Year nominations are due April 16. Both can be emailed to Internal Recognition Committee Chair Michele Fogg at Michele.fogg@csn.edu.
Faculty & Staff Questions
How does the UMG study differ from the Fox Lawson study in 2008?
The UMG salary study was different from the Fox Lawson study of 2008 for administrative faculty.  Fox Lawson implemented a new salary schedule while it examined job classifications and complexity in making its recommendations.  The result was greater flexibility in salary administration for administrative faculty.  That is why the UMG study resulted in only modest changes for administrative faculty.
Does the salary equity study address classified staff or adjunct faculty pay?
The UMG study does not impact classified staff, whose salaries are overseen by the state and not NSHE.  Adjunct faculty are also not affected by this study, although NSHE is looking at how to improve compensation for part-time instructors.
I know there is significant information in the Chronicle and you may have questions.  As always, I'll be happy to address them.
Mike