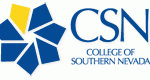 For Immediate Release:
Contact:          Richard Lake, CSN Public Relations Specialist, 702-651-7715, Richard.Lake@csn.edu
CSN to Recognize Diverse Graduating Class
College will hold a series of multicultural celebrations leading up to the 43rd annual commencement
 LAS VEGAS, May 8, 2015 – The College of Southern Nevada will hold several multicultural graduation celebrations in the coming weeks to recognize the hard work of its diverse community of students.
The celebrations begin Saturday, May 9, and run through May 16, leading up to the college's 43rd annual Commencement Ceremony on May 18. Food and entertainment will be provided at each celebration and all are open to the public.
"CSN will celebrate the accomplishments of every graduate. We want to honor the traditions of members of the diverse communities who call CSN home," said Maria Marinch, executive director of the Office of Community Relations, Diversity and Multicultural Affairs. "We know these celebrations impact student success, express appreciation for the invaluable support family, friends and community provide students, and inspire others to see college in their future."
CSN, Nevada's largest and most diverse higher education institution, is graduating its largest class ever this year.
The multicultural celebrations will all take place on CSN's Cheyenne campus:
Native American Celebration: 11 a.m., Saturday, May 9, in the Morse Arberry Jr. Telecommunications Building. The keynote speaker will be William Anderson, former tribal chairman of the Moapa Band of Paiutes.
Latino Celebration: 6:30 p.m., Friday, May 15, in the June Whitley Lounge. Noted DREAMer and organizer at the Progressive Leadership Alliance of Nevada Astrid Silva will deliver the keynote.
Asian/Pacific Islander Celebration: 6 p.m., Friday, May 15, in the Morse Arberry Jr. Telecommunications Building. Speakers include Evan Louie, owner of Kona Ice Las Vegas and commissioner of minority affairs for the state of Nevada, and Elaine Chen, president of TopSight Corporation.
African American Celebration: 6:30 p.m., Saturday, May 16, in the June Whitley Lounge. The event will feature a performance by the P.A. Owens Christian Academy choir and scholarships presented by Stephanie Hill, CSN assistant vice president for student engagement services and Anthony Caraveo, market manager for Grainger Tools for Tomorrow.
About CSN:
Founded in 1971 and educating thousands of students a semester, the College of Southern Nevada (csn.edu) is the state's largest and most ethnically diverse higher education institution. CSN students can choose from 180 degree and certificate options in more than 100 areas of study, including more than 25 degree and certificate programs available entirely online. Students create flexible, personalized schedules, including day, evening, and weekend classes taught on three main campuses and multiple locations throughout Southern Nevada. CSN — your future starts here. CSN is an Equal Employment Opportunity/Affirmative Action institution. For more information, visit http://www.csn.edu/nondiscrimination
#   #   #