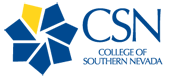 For Immediate Release:
Contact:          Richard Lake, CSN Public Relations Specialist, 702-651-7715, Richard.Lake@csn.edu
Cyber Summit Will Address Shortage of Security Experts
Shortage of computer system specialists trained at community colleges will help address nation's critical security needs
LAS VEGAS, June 3, 2015 – As cybersecurity becomes an issue of increasing national importance, the College of Southern Nevada is preparing to host the second annual Community College Cyber Summit this month to help these two-year institutions prepare the workforce that will secure our nation.
The summit, designed to bring cybersecurity educators and experts from around the country together, will address how to rapidly expand and enhance cybersecurity programs in community colleges. It will take place June 17-19, primarily on CSN's Cheyenne campus.
"Community Colleges are on the front lines in the battle against the shortage of cybersecurity experts in the workforce," said Michael Spangler, dean of the CSN School of Advanced & Applied Technologies.
Missy Young, executive vice president of colocation at Switch, will be the conference's keynote speaker, scheduled for 1 p.m. Thursday, June 18, in the June Whitley Student Center at CSN. Hundreds of educators from community colleges are expected to attend the summit.
Recent studies show that hundreds of millions of records are stolen online annually; nearly half of all Americans had their personal data stolen in 2014. As the need for more workers to counteract this trend grows, CSN is developing a degree program in cybersecurity.
"There is a shortage of computer systems specialists trained in cyber security," Spangler said. "This threat is very real. Our job as a community college is to train the experts by developing the curriculum and acquiring the necessary technology resources. The summit goes a long way toward helping us achieve that goal."
The conference is being organized and produced by a host of cybersecurity interest groups funded by the National Science Foundation, including the National CyberWatch Center. For more, please visit www.nationalcyberwatch.org and click on Events.
What: Community College Cyber Summit
When: June 17-19
Who: Missy Young, executive vice president of colocation at Switch
Why: As cybersecurity threats grow, community colleges are uniquely poised to deal with them
About CSN:
Founded in 1971 and educating thousands of students a semester, the College of Southern Nevada (csn.edu) is the state's largest and most ethnically diverse higher education institution. CSN students can choose from 180 degree and certificate options in more than 100 areas of study, including more than 25 degree and certificate programs available entirely online. Students create flexible, personalized schedules, including day, evening, and weekend classes taught on three main campuses and multiple locations throughout Southern Nevada. CSN — your future starts here. CSN is an Equal Employment Opportunity/Affirmative Action institution. For more information, visit http://www.csn.edu/nondiscrimination
#   #   #