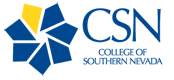 Media Advisory:
Contact:          Richard Lake, CSN Public Relations Specialist, 702-651-7715, Richard.Lake@csn.edu
CSN to Join National Moment of Silence for Oregon Shooting Victims
Brief gatherings will be held on each of the community college's three main campuses
LAS VEGAS, Oct. 7, 2015 – The College of Southern Nevada will join community colleges from across the nation at 11 a.m. Thursday in observing a moment of silence as a show of solidarity and support for those at Umpqua Community College.
"In discussing this with student, faculty and staff leaders, we thought it appropriate to organize a solemn gathering at each of our three main campuses to show Umpqua's community, students, faculty and staff that we stand with them as they begin the healing process, following last week's shooting," said CSN President Michael Richards.
The national effort is being organized by the American Association of Community Colleges.
CSN will hold brief events on each of its three main campuses:
Charleston Campus,
 CSN President Michael Richards will preside
The Paul E. Meacham Student Services Lobby, 11 a.m.
Cheyenne Campus, CSN Vice President of Finance Mary Kaye Bailey will preside
June Whitley Student Center, 11 a.m.
Henderson Campus, CSN Senior Vice President of Strategic Initiatives and Administrative Services Patty Charlton will preside
C Building Lobby, 11 a.m.
About CSN:
Founded in 1971 and educating thousands of students a semester, the College of Southern Nevada (csn.edu) is the state's largest and most ethnically diverse higher education institution. CSN students can choose from over 150 degree and certificate options in more than 90 areas of study, including 25 degree and certificate programs available entirely online. Students create flexible, personalized schedules, including day, evening, and weekend classes taught on three main campuses and multiple locations throughout Southern Nevada. CSN — your future starts here. CSN is an Equal Employment Opportunity/Affirmative Action institution. For more information, visit http://www.csn.edu/nondiscrimination
#   #   #