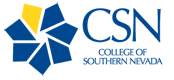 For Immediate Release:
Contact:          Richard Lake, CSN Public Relations Specialist, 702-651-7715, Richard.Lake@csn.edu
It's Time to Enroll for Spring 2016 at CSN
Nevada's largest higher education institution invites students to begin signing up for classes
LAS VEGAS, Nov. 3, 2015 – Open enrollment for the spring 2016 semester begins Nov. 20 at the College of Southern Nevada, meaning anyone admitted can begin signing up for classes.
In addition to required classes like biology, math and communications, CSN is also offering courses on night photography, Pilates for fitness, and a tax preparation class that will see students offering their skills to the community later in the spring.
Classes for the Spring 2016 semester begin Tuesday, Jan. 19. Students are reminded that CSN no longer allows late registration except in unusual circumstances. All registration must be complete before midnight Jan. 18, 2016.
In addition, all new incoming Clark County School District graduates must participate in an orientation session, complete placement testing and meet with an advisor before registering for classes.
"Sometimes our more popular classes can fill up quickly, so students are encouraged to enroll as early as possible," said Hyla Winters, interim vice president for academic affairs.
For more information on how to enroll, visit www.csn.edu/futurestudents.
About CSN:
Founded in 1971 and educating thousands of students a semester, the College of Southern Nevada (csn.edu) is the state's largest and most ethnically diverse higher education institution. CSN students can choose from over 150 degree and certificate options in more than 90 areas of study, including 25 degree and certificate programs available entirely online. Students create flexible, personalized schedules, including day, evening, and weekend classes taught on three main campuses and multiple locations throughout Southern Nevada. CSN — your future starts here. CSN is an Equal Employment Opportunity/Affirmative Action institution. For more information, visit http://www.csn.edu/nondiscrimination
#   #   #