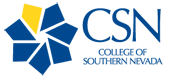 For Immediate Release:
Contact:          Richard Lake, CSN Public Relations Specialist, 702-651-7715, Richard.Lake@csn.edu
CSN & NSC to Award Scholarships at CCSD Reclaim Your Future Celebration Thursday
LAS VEGAS, May 11, 2016 – The College of Southern Nevada and Nevada State College are proud to participate in the Clark County School District's Reclaim Your Future Breakfast on Thursday, May 12, to help celebrate the hard work and dedication of 500 seniors who began their final high school year off-track and are now scheduled to graduate!
CSN President Michael D. Richards and NSC officials will each give away two scholarships at the event. Media are encouraged to attend to speak to seniors about their stories and also hear from educators and community leaders that have been there to support them.
"These students have overcome a number of obstacles to graduate and their community's college is going to be there tomorrow to cheer them on," Richards said. "We aim to let these students know the College of Southern Nevada wants to be their next step to success."
"Nevada State College is proud to congratulate and provide scholarships to these seniors who have overcome adversity in order to graduate," said NSC President Bart Patterson. "They are a shining example of the strength and determination of our Southern Nevada students. We are happy to celebrate their accomplishments and wish them well in their future endeavors."
What: 5th Annual CCSD Reclaim Your Future Breakfast
Where: Texas Station, Dallas Ballroom
When: Thursday, May 12, 2016. Note: The breakfast begins at 9:30 a.m. The program starts at 10 a.m. and scholarships are expected to be presented at 11 a.m.
About CSN:
Founded in 1971 and educating thousands of students a semester, the College of Southern Nevada (csn.edu) is the state's largest and most ethnically diverse higher education institution. CSN offers more than 200 degree and certificate options in more than 130 areas of study, including 25 degree and certificate programs available entirely online. Students create flexible, personalized schedules, including day, evening, and weekend classes taught on three main campuses and multiple locations throughout Southern Nevada. CSN — your future starts here.
About Nevada State College
Nevada State College, a four-year public institution, is a member of the Nevada System of Higher Education. NSC places a special emphasis on the advancement of a diverse and largely under-served student population. Located on a developing 500-acre campus in the foothills of Henderson, Nevada, the college was established in 2002 as a new tier in the state system between the research universities and the two-year colleges. In this role, the college emphasizes high-quality instruction, exemplary service, engaging learning experiences, and innovation as a means to more efficient, effective outcomes in all corners of the campus. Since 2002, Nevada State College has grown to offer more than 40 majors and minors, has received independent accreditation and has expanded its physical campus. Committed to fostering a personal learning environment, students are taught by faculty who serve as mentors and guides in classrooms with an average class size of only 27 students. Nevada State College serves approximately 3,400 students and has over 3,000 alumni, each representing a broad array of cultural and economic backgrounds. For more information, visit http://nsc.edu.
#   #   #