Happy holidays to all! I have lots to share with you in this month's Chronicle. The spring semester is going to kick off with a number of exciting events, including a town hall and roundtables where we will discuss a host of issues, including the safety and protection of our students, the legislative session and the multi-campus district.
Mark Your Calendars
CSN President's Town Hall
Jan. 23, Charleston Campus, K101, 10 a.m. to 12 p.m.
Student Roundtables
Jan.19, Henderson Campus, C 133, 10 a.m.
Jan. 30, Charleston Campus, I-108, 10 a.m.
Jan. 31, North Las Vegas Campus, Conference Room A, 11 a.m.
Faculty & Staff Roundtables
Feb. 13, Charleston Campus, K101, 10 a.m.
Feb. 14, Henderson Campus, C133, 10 a.m.
Feb. 15, North Las Vegas Campus, Telecommunications Auditorium Rm. 1772, 10 a.m.
The CSN Poster Fair is Jan. 9 and kicks off spring Convocation at the North Las Vegas Campus in the June Whitely Student Lounge from 9 a.m. to 11 a.m.
CSN Connections will take place Jan. 17-19, from 10:30 a.m. to1 p.m.
Enrollment/Registration
Classes start Jan. 17 but students will be able to register until Jan 22. There is no additional fee for late registration. Students can also check out the spring semester's short-term classes here.
CSN's Economic Impact
This month, CSN will launch our new economic impact study. The college's students, faculty and staff contribute nearly a billion dollars each year to the regional economy. I plan to discuss this along with our legislative agenda and other important issues at my town hall on Jan. 23, mentioned above. You can read more about our role as Southern Nevada's economic engine here.
DACA & Other Minority Students
We continue to hear student questions and concerns regarding their future at CSN and ability to learn in a safe environment. If you are hearing similar questions, please emphasize the following and refer students for additional information to my office directly or to the diversity office. CSN does not collect immigration information about students, or information related to religious affiliation or sexual orientation. CSN police and staff do not enforce immigration laws or regulations, which are upheld by federal authorities. Finally, as I have previously stated, CSN has implemented a task force to review CSN's policies and procedures, paying special attention to their abilities to support any and all under-represented groups in this current climate, as well as academic freedom, and ensure all students can learn in an inclusive and safe environment.
CSN Police
As I mentioned in my update to you from the December Board of Regents meeting, the Regents plan to study the consolidation of our police with UNLV's department to provide services to all the Southern Nevada NSHE sites. A report is expected at the June 2017 board meeting. I think this is an opportune time to highlight how involved CSN's police and security officers are in our community.
Our police and security officers do much to ensure students, staff and faculty feel safe on campus and engage in the community. This past month, they held a toy drive for Toys for Tots. These gifts will go to those families in the Las Vegas Valley who are less fortunate. The CSN Police asked me to extend their appreciation to you all for your generous donations to this drive. I would like to extend my appreciation to these officers and our security staff for all they do for CSN.
Experimental Site for Financial Aid
The U.S. Department of Education announced this month that CSN will be among a select number of institutions to participate in a federal experiment on the benefits of additional loan counseling for borrowers. Currently, students are only required to get loan entrance counseling once. Additional loan counseling is expected to help borrowers better understand their obligations and make more informed decisions about their debt. Student loan default rates are a problem nationwide and this represents a chance for CSN to be on the cutting edge of research on best practices in financial aid.
Bump Up Field Trip
CSN's minority male mentoring program, known as Bump Up, and its affiliated student group Brother to Brother, is now housed in the Laxalt Center at the North Las Vegas Campus, where the group, along with its corresponding student club Sister-to-Sister, is highly engaged in the campus community. Each semester, members of the Bump Up minority mentoring program travel to a four-year college or university to get a sense of what life will be like after transferring from CSN. The students traveled to UNLV this month where several plan on transferring next fall.
These students, along with student government, have worked with the Bump Up Coordinator Andrew-Bryce Hudson to collect food and winter coats this month for needy CSN students. They plan on distributing these items at the start of the spring semester. For further information, please contact Mr. Hudson at Andrew-Bryce.Hudson@csn.edu.
Holiday Receptions
In lieu of a holiday party this year, we held holiday receptions on each of our three campuses. Everyone involved had a great time.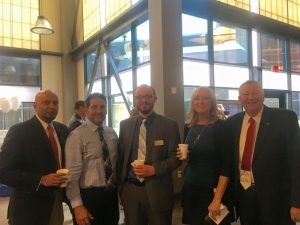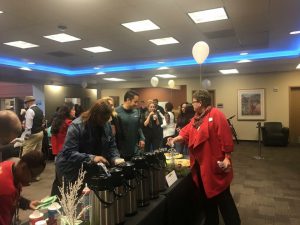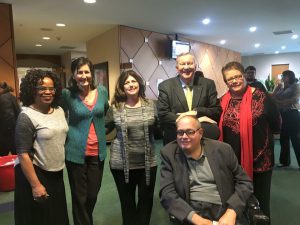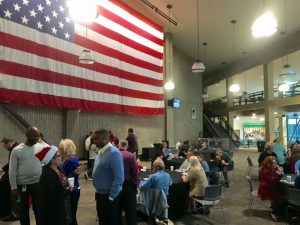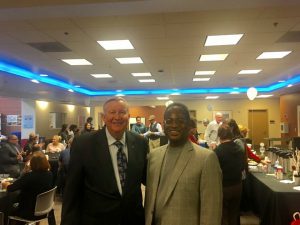 ICYMI
In case you missed it, CSN received great publicity this month. CSN Deaf Studies Professor Anthony Adams organized Nevada's first ASL Slam for the hearing impaired. We also received some great coverage of our faculty art showcase at the North Las Vegas Campus. I hope you get a chance to appreciate the exhibit.
Faculty & Staff Questions:
"What changes will occur due to the implementation of the multi-campus district model? In what ways are they expected to impact students and staff at CSN?"
As I reported following the December Board of Regents meeting, the Regents approved the recommendations of the Multi-Campus District Study Committee. I am working with various departments and CSN executive leadership to cost out the plan and will update the Board of Regents at their March meeting at CSN's North Las Vegas Campus.
Many of the details need to be worked out through shared governance through our committees and councils. But in general, the change to a district model will have a significant impact on students and employees once fully implemented. Students will have access to a standard level of services and general education courses at each campus. This should improve their experience dramatically and create a "home campus" for them, which will be further enhanced by our future student unions. For faculty and staff, it will mean a unique feel to each of our campuses. It will mean that academic and administrative campus leaders will work collaboratively with each other on budgeting and programming and that each campus will have executives who integrate the campus into the community and advance those students' needs. It also means a centralized district operation that supports the three campuses and sites and centers instead of the current vertical top-down structure. You can read more about the model by reviewing the committee's final report.
"When is the CSN Intranet going to launch?"
CSN has a committee that has been reviewing and finalizing designs/templates for the Internal website (Intranet) and is currently working with Page Owners throughout the campus to begin migrating content.  There are plans for a soft launch during the spring. The Internal site is being designed to be the go to place for employees and current students and will house our policies and procedures and important information. It will have a different address than our forward-facing marketing site www.csn.edu, which is geared toward potential students.