May Chronicle
As we head into the final weeks of the semester and prepare for summer and fall semesters, please take the time to read the following updates on a number of issues, including accreditation, the new internal website and more.
Mark Your Calendars: Upcoming Commencement Events
May 4 — Outstanding Student Awards, 5:30 p.m., North Las Vegas Campus, Telecommunications Auditorium
May 5 – Latino Commencement Celebration, 6 p.m., North Las Vegas Campus, Nicholas J. Horn Theatre
May 6 – African American Commencement Celebration, 6 p.m., North Las Vegas Campus, June Whitley Student Lounge
May 12 – Associate Degree in Nursing Pinning Ceremony, 5 p.m., Cashman Center
May 12 – Cardiorespiratory Sciences Pinning Ceremony, 5:30 p.m., Charleston Campus, Rm. K101
May 12 – Radiation Therapy Pinning Ceremony, 1 p.m., Charleston Campus, Rm. K101
May 13 – Health Information Technology Pinning Ceremony, 10 a.m., Charleston Campus, Rm. K101
May 13 – Emergency Medical Services/Paramedic Pinning Ceremony, 4 p.m., Charleston Campus, Room to be determined
May 13 – Practical Nursing Pinning Ceremony, 12 p.m., Charleston Campus, K101
May 13 – Vet Tech Pinning Ceremony, 3 p.m., Charleston Campus, D101
May 15 – Dental Hygiene Pinning Ceremony, 10 a.m., North Las Vegas Campus, Nicholas J. Horn Theatre
May 15 – CSN's Annual Commencement Ceremony, 6 p.m., UNLV Thomas & Mack
May 17 – Certified Nursing Assistant Pinning Ceremony, 7 p.m., North Las Vegas Campus, Nicholas J. Horn Theater

Accreditation
Thank you to all who participated in the ad hoc accreditation visit this past week. All faculty were invited to meet with evaluators as part of the process. This visit afforded CSN an opportunity for follow up on our response to the recommendations coming out of our last seven-year cycle (2009-2016). As you will recall, the recommendations included a review on assessment and how it is utilized in planning and resource allocation.
In regards to the separate warning we received, CSN submitted its report this week to the Commission. Going forward, CSN has created a new process to ensure we submit all institutional changes and updates to the Commission in accordance with their policies. The Commission will consider the report at its June meeting.
Chancellor Search
You may have read in the newspaper that the Chancellor search has stalled. The search, which began in December, has concluded with no finalists. The search committee authorized its chair, Regent Kevin Page, to work with the search firm to evaluate resuming their options. You can read more about the committee's latest meeting here.
Summer Enrollment          
Please remember to let your students, neighbors and friends know that open enrollment for summer sessions classes has begun. There are a number of great classes to attend that will help students complete their degrees and certificates more effectively. Open enrollment for fall semester begins May 20.
AtCSN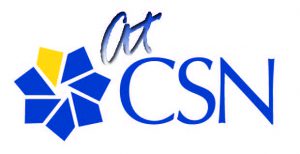 I am pleased to announce our internal website, which we are calling 'AtCSN' (https://at.csn.edu) is now available.
Last spring, we launched our new public-facing website, www.CSN.edu, to remodel CSN's online gateway for potential students and the community. This site includes all of the public information needed to access CSN services. A large group of faculty and staff have since been working to build an internal site, dedicated to housing the information needed for current students, faculty and staff to thrive at CSN, including our directory, Coyote Q, policies, forms, a calendar of important dates and deadlines and more.
Internal AtCSN integrates with the public-facing www.CSN.edu, enabling CSN faculty, staff and students to seamlessly access public and internal pages. It is also responsive and accessible from your phone, tablet, laptop, or desktop computer.
Please remember AtCSN is a work in progress as we continue to expand internal content. We also look forward to the next installment in this project, GoCSN, which will provide a single sign-on application that will further enhance and personalize your website experience. More information will be available as we get closer to the fall semester.
CSN Legislative Priorities
Several deadlines have now passed, eliminating a number of bills, and I am pleased to report that CSN's legislative priorities continue to remain in play with much support from our legislative representatives. This month, CSN and its community partners, including the Metro Chamber, Dignity Health and the City of Henderson, were able to present information about the proposed CSN & NSC Health & Science Building. We continue to hold out hope that our request for $4.3 million in planning funds will be included in the final budget.
Asian American Pacific Islander Heritage Week
Although Asian American Pacific Islander Heritage Month is held in May, the CSN Asian American Pacific Islander Heritage committee celebrates in April, prior to the end of the semester. A rather broad term, Asian/Pacific encompasses all of the Asian continent and the Pacific islands of Melanesia (New Guinea, New Caledonia, Vanuatu, Fiji and the Solomon Islands), Micronesia (Marianas, Guam, Wake Island, Palau, Marshall Islands, Kiribati, Nauru and the Federated States of Micronesia) and Polynesia (New Zealand, Hawaiian Islands, Rotuma, Midway Islands, Samoa, American Samoa, Tonga, Tuvalu, Cook Islands, French Polynesia and Easter Island).
This year the committee chose to celebrate Disney characters that represent AAPI by showcasing Kubo & The Two Strings (Japanese), Moana (Polynesian) and Mulan (Chinese). These three films were shown over three weeks and each incorporated a cultural demonstration, including a Kaminari Taiko drummer demonstration, Polynesia style dances and a martial arts demonstration.
Collective Bargaining
Collective bargaining negotiations continue between the College and the NFA/AAUP on behalf of the academic faculty. Most recently, the discussions have focused on finalizing various proposals that the parties have exchanged for the past weeks (these include provisions regarding work safety, overload requests, reductions in staffing during a period of financial exigency, etc.) Also, various NFA proposals have been discussed but the College does not see a way to move forward on the proposals (these include the topic of benefits, for example). Lastly, proposals regarding the key topic of salary adjustments have been discussed. The College has posted its proposal (along with NFA/AAUP's) and a position statement on the collective bargaining webpage (csn.edu/collectivebargaining), and all are encouraged to review those materials. The College's salary proposal focuses on 1) an equity study with participation by faculty and study outcomes funded by internal resources, and 2) NSHE performing its next salary study with study outcomes funded by the Legislature.  On Friday, April 28, Vice President of Finance Mary Kaye Bailey presented information about the College's revenue sources and dedicated purposes for most of the fees collected from students. Her presentation is also posted on the collective bargaining webpage. We appreciate everyone's efforts and thoughts on this important project, and thank those who have attended negotiating sessions. All are welcomed.
CSN Day at the Legislature
Thank you to all who participated in making CSN Day at the Nevada Legislature a success. We had more than 50 faculty, staff and students make the journey. They met with their elected representatives, sat on the Assembly and Senate floors during session, attended the Assembly Education Committee and toured the Capitol. In addition, a number of legislators as well as Regents John Moran and Kevin Page, came by the lunch reception, sponsored by Century Link, to speak with our students. It was a beautiful day and CSN was well represented!
Respiratory Therapy Excellence
I am proud to share that CSN's nationally recognized Cardiorespiratory Science Program will receive the Distinguished RRT Credentialing Success Award from the Commission on Accreditation for Respiratory Care in June! This distinguished honor is awarded to select institutions for high quality programs with continual success in the credentialing and job placement of graduates. Way to go!
Faculty & Staff Questions
"Are the CAPE Guiding Principles for Service Excellence courses required for all faculty, staff and students?"
All employees are strongly encouraged to attend these courses. Regardless of your position at the college, you serve students, faculty or staff and this course series promotes emotional intelligence and core values that we must all exude to successfully carry out the college's mission. Check with your respective vice president to determine if the course is required for you.
"What's the latest happening on the multi-campus district transition plan?"
As you may recall, we have identified funds from student fee increases that we may use to add the faculty and student services staff necessary to phase in a transition from a highly centralized multi-campus single unit to a multi-campus district. These funds will create the home campus experience emphasized in our plan and a standard level of services and course menu at each campus. We have requested funding from the Legislature for the administrative component and will know more in June. Meanwhile, we continue to research best practices for structuring and management of these districts.
"When can we anticipate to receive feedback from our ad hoc accreditation evaluation this week on the 2009-16 plan?"
Evaluators visited on April 25-26, and they will prepare a written report for review at NWCCU.  It will probably be mid-fall before final action is announced.
Please join us on May 15 for Commencement at the Thomas and Mack.  Celebrate our students!
Mike