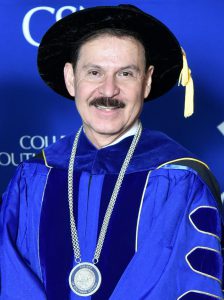 The Fall 2020 semester has gotten off to a wonderful start and I hope that you and your family are in good health.  I want to thank those of you that participation in our Fall 2020 Virtual Convocation Ceremony.  In spite of the virtual format, the five-day convocation events received our highest ratings ever and proved to be a tremendous success. 
Already your commitment to student success is evident in how you interact with our students and each other. While there are many changes on campus, these changes are driven by a concern for safety. Reminders of our return to campus safety plan are all over our campuses as evidenced by signage, social distancing, sanitation stations, and of course mandatory use of face coverings such as masks inside and outside the classroom. We have also minimized exposure to COVID-19 by conducting approximately 90 percent of our Fall 2020 classes online, and about 10 percent on campus. Our on-campus classes include those that require hands-on or interactive components, such as the requirements of many career and technical education classes, as well as health care and science labs.
We continue to deliver a full array of online and limited face to face student services, including advising, counseling, career and transfer services, the testing centers, and much more. Please see our Coronavirus page for all of the details. Another new safety app has been developed by the state of Nevada designed to help us all fight the COVID-19 pandemic. This new app, available for Android or iPhone, will help Nevadans protect each other and slow the spread of COVID by notifying you if you've likely been exposed. This empowering us to quarantine effectively, seek medical attention, and reduce risk to others. Learn More and Download the App.
Enrollment and Institutional Data
Our Fall 2020 Return to Campus transition is well underway. Our current Fall enrollment is approximately 12 percent down, when compared to last Fall, but we expect our enrollment to increase as we continue to work with students on payment plans and as we continue to accelerate on-boarding for students on waiting lists, dual enrollment and apprenticeship programs. Moreover, we have intentionally created a robust Fall 2020 late-term session, I am pleased to announce that we have been working on our "First Responder – Education and Training plan since day one of the pandemic. These efforts are a direct response to Gov. Sisolak's call for community colleges to be the "first responders" for the thousands of Nevada's displaced workers and long term unemployed. Given these efforts, we expect our final Fall enrollment to be similar to last year. To review the latest enrollment data, visit the Institutional Research Data Dashboard. The site houses publicly available interactive reports created to support institutional decision making.
Welcome to a new academic year. I hope you are looking forward to this historic semester as much as I am.
Federico
In This Issue:
Convocation
President's Cabinet
Town Halls
Historic Grant
Meaningful Writing
Diversity Summit
Our Convocation and Welcome Back event was a resounding success this year. Hundreds of you attended the virtual event for policy updates, our CIO's Technology Keynote, professional development sessions and our annual awards ceremony for Distinguished and Excellence Award winners.
I want to again congratulate all the winners:
Distinguished Administrative Faculty – Uche Dappa
Distinguished Classified Staff – Bobby Barajas
Distinguished Full-Time Faculty – Emily King
Distinguished Part-Time Faculty – Eugene Shapiro
Excellence in Community Service – Melissa Giovanni
Excellence in Community Service – Kathy Kazemi
Excellence in Online Teaching – Ayla Koch
Excellence in Research – Earnest Bracey
Excellence in Service to CSN – Patrick Villa
Excellence in Service to CSN – Freley Hosannah
Excellence in Service to CSN – Courtney Schmitz
See the President's State of the College Address
President's Cabinet Updates
I want to take this opportunity to let you know about some personnel changes that I have made to my leadership team. I have purposely reengineered existing positions to ensure no budget increased.
I am using the NSHE Chief of Staff – Governmental Relations model to change the position description for the Executive Director of Diversity and Inclusion, to that of CSN Chief of Staff-Diversity Officer. The approach is designed to build accountability surrounding diversity issues among our executive leadership team. The search for that position is currently open.
Dr. Margo Martin will be reassigned from Vice President of Academic Affairs to Chief Accreditation Institutional Effectiveness Officer. This change fills a gap for accountability in the accreditation and institutional effectiveness area, currently addressed by special assignments. We will soon appoint a one-year interim VPAA via an NSHE-wide search.
I have also moved the Office of Marketing & Communications under the leadership of CIO Mugunth Vaithylingam. This should facilitate a more integrated communications approach between our social media, web-based, and marketing efforts.
Town Halls
Our weekly Town Halls for faculty and staff continue to be very popular, typically with more than 400 people attending. I truly enjoy answering all your questions in this live setting. Our next town hall is scheduled for 1 p.m. September 15.
I am also pleased to report that we will soon be holding monthly town halls for our students, continuing where we left off in the spring. We are working with ASCSN leadership to find optimal times for these, so please look for more information soon that you can pass along to students.
Math Map HSI Grant
We received some wonderful news last week: CSN has been awarded a $2.9 million grant from U.S. Department of Education grant under the Developing Hispanic-Serving Institutions Program to fund our El Mapa Matemático/Math Map program.
This is significant for a multitude of reasons. As many of you know, CSN became the state's first Hispanic Serving Institution in 2015, opening up a pathway for new funding opportunities. We expect that while this grant is our first under the HSI program, it will be far from the last.
The El Mapa Matemático/Math Map program is intended to help guide students through college-level math by integrating our efforts at four major milestones for students: placement, support, instruction and pre-graduation. Students who struggle with math can expect more guidance at critical times during their journey to graduation.
In addition to helping our students, this grant opens the door for CSN to have a stronger national presence as an institution and, hopefully, will lead to more funding opportunities.
Meaningful Writing Experience
I wanted to let you know about a new scholarship available to students who have engaged in coursework at CSN that inspired, transformed, or connected them to their future personal,
academic, or professional goals. It is available to CSN students who have completed a meaningful writing project at CSN in Summer or Fall 2020 and are planning to return to the college for the 2021-2022 academic year.
Learn more about the scholarship
Southern Nevada Diversity Summit
We are lucky enough to be the host institution for this year's Nevada System of Higher Education Southern Nevada Diversity Summit. This annual event is designed to facilitate discussion about emerging challenges and successes in achieving diversity, equity, and inclusion inside and outside NSHE institutions. The event will be hosted virtually via Microsoft Teams on Friday, October 2, 2020.
The theme for this year's summit is "Knowledge to Action" — appropriate given the social protests that have captured the nation this year. The goal is to inspire us to make changes in our daily lives affect the world around us.
Please look for more information in the coming weeks.
Find out more details and register