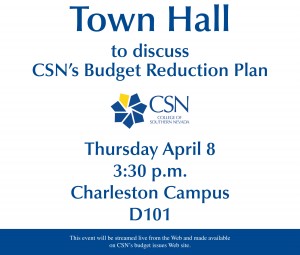 I want to take this opportunity to draw attention to several upcoming events at CSN.
First on April 8, CSN will host a town hall forum to discuss the budget reduction plan for the current biennium. As many of you know, CSN along with the Nevada System of Higher Education, was asked to cut 6.9 percent of its budget each year of the biennium. Through a collaborative process involving students, staff and faculty, CSN has created a budget reduction plan that I believe minimizes the impact to students and classes.
The media recently announced today that unemployment in Nevada is up to 13.2 percent, from 13 percent in January. In Las Vegas, unemployment rose to 13.9 percent from 13.8 percent in January.  I would guess the effective rate is much higher.  We have a long-term challenge in Nevada to turn this economy around.
Our enrollment this spring is up 6.7 percent over last spring and I believe we will continue to see similar growth in demand for postsecondary services in the fall if job opportunities further diminish. Clearly our community needs the education and train CSN offers, and I feel a responsibility to help as many people as we can.  We also committed to student leaders that revenue from a registration fee surcharge would be reinvested in additional class section.   As we prepare to implement budget cuts, it is imperative that we strive to maintain our open-access mission and try to meet the needs of the community. I'll discuss how we hope to achieve that and more during the town hall.
The event will be Web streamed live and I anticipate posting the video on this blog.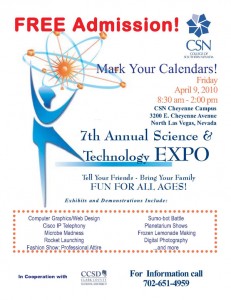 The next day, on April 9, CSN's seventh annual Science & Technology Expo will take place at the Cheyenne campus. This event, which strives to get kids excited about math, science and technology related careers, is an amazing enrichment opportunity for students across the valley and this year promises to be extra special. To commemorate the 60th anniversary of the National Science Foundation, NSF Director Dr. Arden Bement will come and speak at the event, bringing with him a number of NSF supported exhibits that are not only educational but exciting.
Finally on April 12, the President's Cabinet and the Strategic Planning Committee will discuss in an open meeting the new CSN Strategic Plan.  The meeting will be held at 9 a.m. in I 108 at West Charleston.  Although there has been considerable campus input on the plan, this is another opportunity to discuss the draft plan. This is an important document that will help CSN move forward in this economic climate. I hope you will attend or watch online as I have asked that this event also be Web cast.