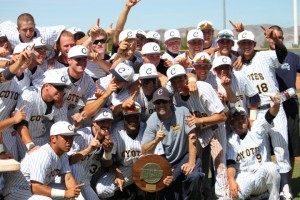 I want to extend my congratulations to our CSN Coyotes as they work toward their second national championship this weekend at the Junior College World Series in Grand Junction, Colorado.
To update my previous entry, the team beat Central Arizona 25-11 to win the NJCAA Western District Tournament last week.
I am so proud of our athletes and Coach Tim Chambers for their efforts. This powerful team has done so much this year, not only in terms of wins, but also for Southern Nevada. Thousands have come out to enjoy their games and these players have incited a level of reverence and excitement for NJCAA ball never seen before in this community.
Watch the game live online. The first game is against North Carolina's Pitt Community College on Saturday, May 29 at 6:30 p.m.
To view the 2010 JUCO Baseball Tournament Bracket go to: http://www.jucogj.org/upload/bracket.pdf
Good luck Coyotes. We are behind you 100 percent.