I would like to take a moment to call attention to a few CSN students who have received national attention in their fields this summer! 
Congratulations to CSN Floral Design Students Monica Macaibay, Gayoung Park and Teryl Tollefsen-Soren for placing in the top 10 places at the summer Student American Institute of Floral Design Competition in San Francisco.
Monica Macaibay took first place in the Sweetheart Table Design competition with this creation: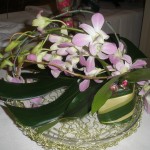 Gayoung Park took sixth place in the bridal bouquet design and eighth place in the buffet table design competitions and Teryl Tollefsen-Soren took fifth place in the buffet table design.
More than 15 colleges and 57 students competed. Congratulations to the CSN Floral Design Program on their success at this national competition.
In other news, congratulations to CSN student Connor Stidham, who took first place at the national SkillsUSA HVAC competition.
Connor, 18, graduated from CSN this spring and is the first student to take advantage of a fast-track HVAC associate's degree option.
He received his associate's just prior to obtaining his high school diploma from Foothill High School.
His story is not unusual for community colleges, which educate roughly half America's higher education students and have a tradition of using innovation to train a skilled local workforce in the latest technologies.
He is also the first in his family to receive a postsecondary degree.
I'd like to extend big congratulations to Connor and the CSN Air Conditioning Technology Program on their gold medal!