By Richard Lake
LAS VEGAS, June 7, 2016 – As national and state policymakers debate higher education policies this summer, the College of Southern Nevada (CSN) is pleased to present the documentary, "No Greater Odds," at a Capitol Hill screening with federal policy makers Wednesday night to highlight the unique needs of community college students across the nation.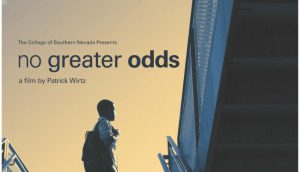 The national community college reform network, Achieving the Dream, of which CSN is a member and Leader College, is spearheading the event. The viewing will take place Wednesday, June 8, 2016, from 5 p.m. to 7 p.m. at the Library of Congress James Madison Memorial Building.
The higher education technology provider, Ellucian, which provides technology support and management at CSN, and Innovative Educators, a nationally renowned online professional development provider for academia, sponsored the trip for the cast and crew to take part in the event, including the five alumni who beat the overwhelming odds against them to achieve their college degrees.
Multiple academic conferences nationwide have showcased the film this year. Wednesday's viewing on Capitol Hill is part of a growing conversation on making postsecondary education more accessible to Americans.
The "No Greater Odds" documentary follows the inspirational stories of five community college students at CSN, who against overwhelming personal and financial obstacles, obtained their college diplomas. CSN is the largest higher education institution in Nevada and the state's first Hispanic Serving Institution. Approximately 37 percent of CSN's students receive Pell Grants, the need-based federal grant. CSN's average independent Pell grant recipient lives on approximately $16,500 a year. Nearly a quarter of its students are first-generation college students, learning to navigate the ropes of higher education on their own.
The film seeks to differentiate community college students from traditional four-year institution students and showcase their diverse, non-traditional needs. The hour-long film documents the struggles of CSN alumni: Barbara Ayarza, a single mom with six children; Carlos Holguin, a first-generation college student; Jaklin Guyumjyan, who immigrated to the United States as a child on Sept. 10th, 2001; Monique Makhlouf, who began working at the age of 15 after her mother broke her back and had her home foreclosed upon while in college; and Tyrone Foster, a sexual assault victim also diagnosed with Bipolar Disorder Type II. In addition, CSN alumni and faculty filmed and produced the documentary.
To view a trailer of the film, go to www.vimeo.com/nogreaterodds.
About CSN:
Founded in 1971 and educating thousands of students a semester, the College of Southern Nevada (www.csn.edu) is the state's largest and most ethnically diverse higher education institution. CSN students can choose from over 150 degree and certificate options in more than 90 areas of study, including 25 degree and certificate programs available entirely online. Students create flexible, personalized schedules, including day, evening, and weekend classes taught on three main campuses and multiple locations throughout Southern Nevada. CSN — your future starts here. CSN is an Equal Employment Opportunity/Affirmative Action institution. For more information, visit http://www.csn.edu/nondiscrimination
About Ellucian:
Ellucian is the world's leading provider of software and services higher education institutions needed to help students succeed. More than 2,400 institutions in 40 countries rely on Ellucian to help enable the mission of higher education for over 18 million students. Visit Ellucian at www.ellucian.com.
About Innovative Educators:
Innovative Educators is the premier provider of student support workshops and of professional trainings for faculty & staff.
With a variety of products including online orientation, online student success workshops, and online trainings for faculty and staff, Innovative Educators has a full suite of products designed specifically for higher education.
To learn more about Innovative Educators and their offerings, visit innovativeeducators.org.
CSN contact: richard.lake@csn.edu