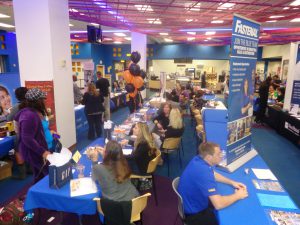 The public is invited to showcase jobs skills to recruiters at the Oct. 5 event
LAS VEGAS, Sept. 30, 3016 – The College of Southern Nevada will host its Fall 2015 Career Fair, connecting students and other job seekers to dozens of local employers. The event is open to the public and is scheduled for 10 a.m. to 1 p.m. Oct. 5 in the June Whitley Student Lounge on CSN's North Las Vegas campus.
The open forum gives job applicants the opportunity to meet recruiters, learn about job openings and gather detailed employment information. Applicants should dress in interview attire, bring resumes and be prepared for immediate interviews.
"The Fall Career Fair is a great networking opportunity," said Erica O'Toole, career specialist at CSN. "Many job seekers use it as a way to learn more about potential employers. Recruiters will also be there to provide detailed information about their organizations and the jobs available."
Employers scheduled to appear include: Ameriprise Financial, Chipotle, the Clark County School District, the College of Southern Nevada Alumni Relations, the Eighth Judicial District Court, Farmers Insurance, Firestone, In-N-Out Burger, the Las Vegas Metropolitan Police Department, the North Las Vegas Police Department, Station Casinos and many more.
For more information or to host an employer booth, contact CSN Career Services, 702-651-4700.
What: CSN Fall 2016 Career Fair
When: 10 a.m. to 1 p.m. Oct. 5
Where: June Whitley Student Lounge on CSN's North Las Vegas Campus