The final date to enroll is September 2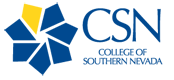 Aug. 24, 2018 – The College of Southern Nevada is ready for tens of thousands of students to hit our campuses on Monday with a Welcome Back Crew and all the information they'll need to navigate the start of a new semester.
Classes start Monday, August 27, and we'll deploy faculty, staff and students who know their way around our three campuses to help new students get where they're going. This year, there will be something a little different on each campus: The construction of new student unions has begun, and they're set to open in the fall 2019 semester.
Students can still sign up for classes through September 2, but for those who can't, our Department of Recruitment and College Connections is hosting several information sessions for those who want to learn more about the state's largest college. They'll cover the degrees and certificates available, answer questions about financial aid, and show off the campuses to those who are interested. For more, visit www.csn.edu/infosessions.
What:             CSN First Day of Classes
When:             Monday, August 27
Where:           CSN Charleston, Henderson and North Las Vegas campuses