Greetings!  As this academic year closes, there is much to report to you in many areas of the college.
Scholarships and More
Great news: The CSN Foundation was able to raise approximately $500,000 in donations at the Legacy of Achievement Gala in April. These donations are incredibly necessary to support CSN students and programs. This year, students came out and participated like never before and it made all the difference. Now is a great time to encourage students you know to learn about CSN scholarships at http://www.csn.edu/scholarships/ and apply by June 10.
I would also like to thank Las Vegas Mayor Carolyn Goodman, her husband, former Las Vegas Mayor Oscar Goodman, and the Southern Nevada Franchised New Car & Truck Dealers Association, Incorporated. All three were honored that night for their incredible support of CSN students. They helped make the night a terrific success and we are ever grateful for our community partners.
Errata
Last month's Chronicle omitted the names of a handful of new faculty senators, including Carrie Preite from Biology, Michael Simpson and Christopher Curry from Health Sciences and LaDella Levy, Julian Smit and Ky Wimpfheimer from the School of Education, Behavioral and Social Science. I apologize for the late recognition and congratulate these faculty members on their election.
NV Energy Partnership

CSN and NV Energy have added another dimension to our partnership.  Through a gift of $50,000 and part of a TAACCCT grant, an NV Energy Safety Training classroom and two training laboratories have been established at the West Charleston campus.  Operating through the Division of Workforce and Economic Development (DWED), the program will train NV Energy employees in OSHA and other safety training needed for their jobs. Paul Caudill, President of NV Energy and Regent Chair Kevin Page, joined CSN officials in opening the facilities on May 13th.  Tours of the labs, the training mock ups, and demonstrations of the equipment were held for all attendees. NV Energy employees start training in these facilities today.
Policies
During this academic year a number of significant college policies have been approved and others have been reformatted into the approved policy format. It is important that you are informed about policy changes. Here is a summary of the changes:
| | | |
| --- | --- | --- |
| Name of Policy | Adopted or Last Revised Date | Policy or Revision Summary |
| Course Registration & Course Withdrawal Policy (STU 19.2) | Revised:     04/15/2014 | New policy to implement the "no late registration" changes. Recent revision clarifies exceptions to policy. Note: This policy also requires students to withdraw themselves prior to the last date to withdraw — instructors can no longer assign a "W" at the end of the semester/term. |
| Academic Renewal Policy (STU 17.1) | Effective:   06/04/2013  | New policy providing for academic renewal. |
| Non-traditional Education Credit Policy (STU 4.1) | Effective:   04/03/2013  | New policy to set forth the criteria for granting non-traditional education credit. |
| Academic Probation & Suspension policy (STU 3.2) | Revised:  04/15/2014 | Evaluation for Academic Warning is made after 15 units, rather than 12; Counselors and faculty advisers are included in the process; and there may be additional requirements for readmission after Academic Suspension. |
| Family & Medical Leave (FMLA) Policy (ADM 1.1) | Effective:   04/16/2013  | New policy established to ensure compliance with Family and Medical Leave Act. |
| (Academic) Faculty Evaluation Policy (FAC 1.2) | Revised:  05/07/2014 | Standards identified for teaching, library and counseling faculty; use of term "standards" changed to "guidelines"; new rating procedures and corresponding forms established; revisions to Peer Review Committee composition and changes to when Peer and Supervisory reviews are due. |
| Information Systems & Electronic Resources Acceptable Use Policy (GEN 6.3.1) | Revised:     04/17/2013  | Added e-mail acceptable use policy and new section addressing wireless network acceptable use. |
| Academic School and DWED Collaboration Policy (GEN 5.2) | Effective:   04/02/2013  | Reformat into new template; updated terminology; and changed reporting dates. |
| Minor Children on Campus Policy (GEN 9.2) | Revised:     04/10/2013 | Reformatted into new template; added purpose statement and clarified exceptions; and updated terminology. |
| Department Chair Selection and Recall Policy (FAC 21.2) | Revised:     04/16/2013 | Reformatted into new template. |
| Librarian and Counselor Job Descriptions (FAC 18.2) | Revised:     04/16/2013 | Reformatted into new template. |
| Office Request Policy (FAC 19.2) | Revised:     04/17/2013 | Reformatted into new template. |
| ADA/ADAA Policy (ADM 2.1) | Effective:   07/11/2013  | Reformatted into new template. |
| Nepotism (ADM 3.1) | Effective:  07/11/2013  | Reformatted into new template. |
| Non-Discrimination (ADM 4.1) | Effective:  07/11/2013  | Reformatted into new template. |
| Sexual Harassment (ADM 5.1) | Effective:  07/11/2013  | Reformatted into new template. |
| Grants & Contracts Accounting Policy (FIN 3.1) | Revised:  04/11/2014 | Reformatted into new template. |
Beginning fall semester, one new or revised policy will be featured in the Chronicle to assist in the communication of CSN policies and procedures.
'Finish In 2' Campaign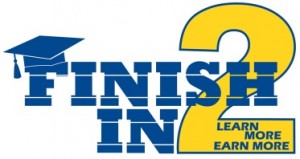 As part of the Nevada System of Higher Education's effort to encourage Nevada college students to graduate on time, CSN is launching the Finish In 2 campaign.
As the name implies, this campaign is encouraging students to finish associate degrees in two years, by completing 30 credits each year in a way that works for them. That could mean 15 credits each semester, or 12 credits each semester and 6 credits over the summer.
Why is this campaign necessary?
Because we know:
Only 3 percent of Nevada community college students taking less than 12 credits per semester graduate within four years with an associate degree;
62 percent of students complete their associate degree when they complete 30+ credits in their first year; and
An extra semester of college costs the typical two-year college student almost $1,500.
As part of this, we need to encourage students to work with our advisors and counselors and plan their pathways according to their needs.   
Please visit the website at www.csn.edu/finishin2 to get more information. Advisors and counselors can download the flier and print it for use in student sessions. We encourage all staff members that have contact with students to use this flier or direct them to the website. We also encourage you to use the logo and icon in your email signature.
Posters will be printed and framed over the summer for use in advisor/counselor offices and common areas. If you would like to reserve one, please email us.
Achieving the Dream
The Achieving the Dream annual reflection report has been completed and submitted to ATD before the deadline. Special thanks to our ATD Leader Bill Neff and Institutional Research's Laura Yavitz, who did most of the heavy lifting! The many faculty and staff who serve on various ATD subcommittees have done an amazing job of planning and launching the two ATD pilot interventions for fall, including the mandatory matriculation policy for incoming 2014 Clark County School District high school graduates this fall and the new student success modules. The mandatory matriculation pilot requires all incoming 2014 CCSD grads to complete placement testing, orientation and meet with a counselor before registering.
Retirees

We are sad to say goodbye to at least 18 members of the CSN family who have decided to retire. This is bitter sweet for me, whereas these people have long served our students. As people make important end-of-the-semester decisions, I anticipate there may be others who decide it's time for them to retire as well. I had the opportunity to recognize a number of these important individuals at the recent Retiree Luncheon, organized by our Internal Recognition Committee.
We're also honoring the service of these individuals in other communications. To learn more about who is retiring, I urge you to go the Internal Recognition Committee's Honoring Our Retirees webpage. They are constantly updating the page and you can learn all about retirees' impact on CSN. This information also runs on our I.C.S. screens. For instance, you can learn about Betty Marx, our administrative assistant at Cheyenne who has served CSN for 24 years.
Also, remember, CSN's annual Commencement is Monday, May 19, at 6 p.m. at the Thomas and Mack Center at UNLV. According to preliminary data, this will be another record year and our largest graduating class ever! Faculty should be there at 5 p.m. to line up and walk out with students in the East Tunnel in commencement attire. 
 Questions from Faculty and Staff Members: 
"Are state employee's receiving Merit Salary Increases (MSI's) beginning July 1, 2014?"
The 2013 Legislature lifted the suspension of merit, effective July 1, 2014, for those employees who are not topped out (for classified employees step 10 is topped out). 
"Will all classified employees receive their Merit Salary Increase (MSI) on July 1, 2014?"
No, unless the employee's Pay Progression date falls on July 1, 2014, otherwise, an employee will receive his/her MSI on his/her Pay Progression Date.
"Will there be a CSN student orientation available online?"
Yes, the new CSN student online orientation will be available online for students to begin participating in this month. Of course, CSN will continue to offer on-campus orientations to new students as well.  
"How many students have or will graduate in 2013-2014?
A record 2,831 students are eligible to receive 3,194 degrees and certificates, according to preliminary data. Official numbers for the spring 2014 semester will be available once final grades for the semester are completed. This is a great indication that we are on the right track and progressing in our goals to help more students change their lives and obtain a college education. I believe these graduates are our future and thank each and every one of you for helping them reach this transformational life achievement!
Convocation in August will again be held at Texas Station. The event will take place on Aug. 18. Please RSVP at rsvp@csn.edu. We will announce the recipients for the Excellence Awards and the President's Distinguished Employee of the Year Awards. Pick up a Reflections of Success yearbook to learn about the award nominees. They've been distributed to campus departments/units and to the various sites and centers. Contact the Office of Communications at 702-651-7354 to have a copy mailed to you.
 Thank you everyone for a great spring semester! Enjoy the summer and we look forward to seeing you for an exciting 2014-15 academic year!
–Mike Richards