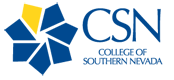 For Immediate Release:
Contact:          Richard Lake, CSN Public Relations Specialist, 702-651-7715, Richard.Lake@csn.edu
CSN Welcomes Students Back for Spring Semester
CSN Connections events designed to build a sense of community
LAS VEGAS, Jan. 12, 2015 – CSN is welcoming students back this semester with events featuring information on student clubs, the services offered, a Welcome Back crew, food, prizes and games.
Students can still enroll for the spring 2015 semester through Jan. 19. The CSN Connections events kick off the semester during the first week of classes on all three main campuses, on Jan. 20, 21 and 22.
"We'll be greeting new and returning students and offering them whatever help they need," said Darren Divine, CSN's vice president of academic affairs. "The food and prizes are a bonus."
Connections will feature burgers and hot dogs grilled by CSN administrators, dozens of booths hosted by student clubs and campus organizations, and information on counseling, transferring, tutoring and all the other services CSN offers.
In addition, there will be giveaways, a welcoming crew of volunteers to shepherd new students around all three campuses, and plenty of staffers on hand to help students.
CSN Connections was designed to help students get to know the college, which spans three campuses across Clark County. Research has shown that students who feel a connection to their college, including its services and students clubs, are more likely to do well, return, and graduate.
"Student success is the foundation of all that we do at CSN," said Divine, who came up with the idea for the events several years ago. "There is nothing more important than welcoming students back, making them feel comfortable, and making sure they get all the help they need."
Here are the times and locations of the events:
·      Tuesday, Jan 20: 10:30 a.m. to 2 p.m., outside the B building on the Henderson campus
·      Wednesday, Jan 21: 10:30 a.m. to 2 p.m., outside the main entrance on the Cheyenne campus
·      Thursday, Jan 22: 10:30 a.m. to 2 p.m., outside the D building on the Charleston campus
About CSN:
Founded in 1971 and educating thousands of students a semester, the College of Southern Nevada (csn.edu) is the state's largest and most ethnically diverse higher education institution. CSN students can choose from 180 degree and certificate options in more than 100 areas of study, including more than 25 degree and certificate programs available entirely online. Students create flexible, personalized schedules, including day, evening, and weekend classes taught on three main campuses and multiple locations throughout Southern Nevada. CSN — your future starts here. CSN is an Equal Employment Opportunity/Affirmative Action institution. For more information, visit http://www.csn.edu/nondiscrimination
#   #   #