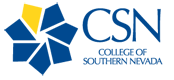 For Immediate Release:
Contact: Richard Lake, CSN Public Relations Specialist, 702-651-7715, Richard.Lake@csn.edu
CSN to Name Charleston Campus Student Services Building in Honor of President Emeritus Dr. Paul E. Meacham
Student Services Building to Bear the Name of Nevada's First African American Postsecondary President
LAS VEGAS, Jan. 12, 2015 – CSN President Michael D. Richards is pleased to invite members of the community and the media to attend the dedication of the Paul E. Meacham Student Services Building, which will take place on Friday, Jan. 30, at 1 p.m. at the Charleston campus.
The student services building, a cornerstone of the Charleston campus, will be named in honor of CSN President Emeritus Dr. Paul E. Meacham, the first African American president of a Nevada higher education institution.
"President Meacham changed the lives of thousands of students and his legacy should be promoted in perpetuity," said CSN President Michael D. Richards. "He's the reason we have the Charleston campus today. A decade after he retired from CSN, there is no better time to honor Dr. Meacham, his service to CSN, its students and Nevada."
The Nevada System of Higher Education Board of Regents approved the naming of the building in honor of Dr. Meacham in December.
Dr. Meacham headed CSN for over a decade from 1983 to 1994 and still holds the title of the longest-serving President in the college's 44-year history. The student services building opened five years after Dr. Meacham retired in 1999, but the 66,644-square-feet facility is a central hub for students on the campus. It contains advising, registrar, cashier's, financial aid and disability resources services among others. It also houses a number of classrooms, the Veterans Education Center and Tutorial Services on the second floor.
Through his leadership, Dr. Meacham set the vision for the design of the Charleston campus, which was a plot of dirt when he first arrived at CSN and is now the college's largest campus. He helped secure private funds for its first building, the Claude I. Howard Health Sciences Center, which has recently been renovated and will re-open Feb. 11. Dr. Meacham also oversaw the college at a time of significant expansion and was instrumental in obtaining student spaces on campuses and securing CSN's membership in Phi Theta Kappa, the national community college honor society, among many other accomplishments.
"Building the Charleston campus was one of the most significant challenges and accomplishments of my tenure as President," Meacham said. "I owe many of my successes to the terrific faculty and staff at the college, many of whom are still here and I am honored to be forever connected to them and CSN."
Dr. Meacham will be available for interviews at the dedication ceremony, which will be followed by a reception inside the building.
What: Dedication of the CSN Paul E. Meacham Student Services Building
When: Jan. 30, 1 p.m. to 2:30 p.m.
Where: The ceremony will take place outside in the Palm Tree Circle and will be followed by a reception inside the building
About CSN:
Founded in 1971 and educating thousands of students a semester, the College of Southern Nevada (csn.edu) is the state's largest and most ethnically diverse higher education institution. CSN students can choose from 180 degree and certificate options in more than 100 areas of study, including more than 25 degree and certificate programs available entirely online. Students create flexible, personalized schedules, including day, evening, and weekend classes taught on three main campuses and multiple locations throughout Southern Nevada. CSN — your future starts here.
#   #   #