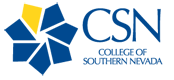 For Immediate Release:
Contact:          Richard Lake, CSN Public Relations Specialist, 702-651-7715, Richard.Lake@csn.edu
State-of-the-Art Labs, Equipment for Science Students at CSN to Enhance Learning
Renovated Claude I. Howard Health Sciences Center to be Re-Opened
LAS VEGAS, Jan. 6, 2015 – The College of Southern Nevada will unveil state-of-the-art renovations to the oldest building on its Charleston campus, including three new classrooms and six labs.
The Claude I. Howard Health Sciences Center first opened in 1988 as the college expanded from its roots on Cheyenne Avenue. Howard was a philanthropist and supporter of education whose generous donation helped CSN's new campus get off the ground.
College officials and members of the healthcare industry will celebrate its re-opening at a dedication ceremony scheduled for 4 p.m. Feb. 11. In addition to renovating 26,000 square feet of the building – about half the existing space in the building – nearly 5,000 square feet of new space was added. The new space will house ophthalmic dispensing, radiation therapy and physical therapy. The building is used primarily by programs in the Ralph & Betty Engelstad School of Health Sciences.
The $10 million project included modern new equipment for the physical therapy, radiation therapy and ophthalmic assistant programs, as well as some smaller renovations to the veterinary tech area in the adjacent B building.
"These new classrooms and labs will enhance the learning experience for our students at CSN," said CSN President Michael Richards. "We're excited to show them off to the public."
What: CSN to dedicate the Claude I. Howard Health Sciences Center
When: From 4 to 6 p.m. Feb. 11
Where: CSN's Charleston Campus
About CSN:
Founded in 1971 and educating thousands of students a semester, the College of Southern Nevada (csn.edu) is the state's largest and most ethnically diverse higher education institution. CSN students can choose from 180 degree and certificate options in more than 100 areas of study, including more than 25 degree and certificate programs available entirely online. Students create flexible, personalized schedules, including day, evening, and weekend classes taught on three main campuses and multiple locations throughout Southern Nevada. CSN — your future starts here. CSN is an Equal Employment Opportunity/Affirmative Action institution. For more information, visit http://www.csn.edu/nondiscrimination
#   #   #