Greetings to all!  There is much activity on many fronts. Please attend my upcoming town hall for further details and conversation. It will take place Tuesday, March 10, at the Henderson campus in C-133 at 3 p.m. The next town hall will occur in March 24 at 3 p.m. at the Charleston campus in I-108.    
Guns on Campus
Assemblywoman Michele Fiore's campus carry bill, allowing weapons on college and university campuses, will be heard in the Assembly Judiciary Committee on Thursday, March 5, at 8 a.m. The Nevada System of Higher Education opposes this bill (see Faculty & Staff questions below for more information on why.)  If your schedule allows, please go to the Grant Sawyer Building at 555 Washington Ave. and plan to provide public comment. Or send an email to members of the committee and your legislative representatives to make your perspective known.
We are encouraging all students, staff and faculty to attend or make their voices known and will send out additional communications once the agenda for the meeting is posted. More on other legislative issues below.
Black History Month
I want to thank our Black History Month Committee for a fantastic month of events. I would like to note that this committee works hard to highlight the importance of the African American community year round with dynamic student mixers, coffee gatherings and more.
Last week, we held the President's Forum for the month and had an engaging discussion on the graduation of African American students and challenges they face. We appreciated the participation of an excellent panel discussion facilitated by Clark County Commissioner Lawrence Weekly. Look for more information about this as we finalize our plans for a Minority Serving Male Initiative this fall.
March Board of Regents Meeting
At its regular meeting on March 5-6, the Board of Regents will consider a number of CSN items:
1) Recommendations for faculty tenure, 2) Recommendations for Regents Awards and an honorary degree for Mr. Dennis Birr, former principal of Community College High Schools, 3) A discussion on campus naming, 4) An update on Financial Aid, and 5) The periodic evaluation of CSN's president. The agenda is available at www.nevada.edu and CSN will provide a link to the live webcast on the home page.
On Thursday evening, the Regents have been invited to a CSN vs Utah State University – Eastern baseball game at the Henderson campus. NSHE Board Chair Kevin Page is throwing the first pitch. Go Coyotes!
Other Upcoming Meetings and Events
Women's History Month begins in March with a terrific series of events. First one is Feb. 27.
CSN IAC Meeting, Monday, March 9, at 11 a.m. at the Charleston campus in E327.
CSN President's Town Hall on Tuesday, March 10, at 3 p.m., at the Henderson campus, C-133.
As part of Women's History Month, the President's Forum on Women's Issues is March 12.
President's March Town Hall on March 24, at 3 p.m. at the Charleston campus in I-108.
Campus Naming Discussion
The March Board of Regents meeting will include a discussion among Regents on CSN campus names. I asked for this item to be put on the agenda in light of the calls from community leaders in North Las Vegas, Las Vegas and the Metro Chamber to change our Cheyenne and Charleston campus names to the CSN North Las Vegas Campus and the CSN Las Vegas Campus. Understanding that a previous survey of our students, staff and faculty weighted in favor of keeping our campuses' current names, it would be beneficial to have robust public discussions about this in multiple venues. Whereas CSN is a public entity and more importantly a community's college, I believe we have a duty to be responsive to our external and internal constituents. I think it would be appropriate for our new Institutional Advisory Council to hear from our students, faculty and staff and community leaders on this matter at their next meeting on March 9 at 11 a.m. in E 327 at the Charleston campus and make a recommendation. It would then also be beneficial for our elected members of the Board of Regents, representing a broad array of constituents throughout the state, to then weigh in on these perspectives and make a decision. As it turns out, CSN's campus names have never been voted upon.
To make your perspective known, I recommend you send an email to K.C. Brekken by March 4. She will compile all emails and provide to the IAC for review prior to their March 9 meeting. You may also come to the meeting to provide public comment or come to a future Board of Regents meeting. I will send additional communications on this to encourage participation.
Legislative Issues
It has been one of the fastest starts to Nevada Legislature in recent history. Gun legislation and the UNLV Medical School have dominated the headlines but there are many bills that have been introduced that will affect our students. We are appreciative of the Governor for supporting higher education in his budget and are making the case for additional investments that are necessary to support the future of this state. As it pertains to CSN this includes:
A $5 increase in the weighted student credit hour;
Merit for professional employees (the executive budget includes this for classified);
A $5 million state scholarship or grant for low-income community college and Nevada State College students; and
A $6 million Workforce Development Fund.
These Board of Regents' legislative priorities not included in the executive budget are also critical to supporting low-income students, increasing recruitment and retention of faculty and staff and providing innovative workforce training programs to support new and existing business and industry.
I recently made a visit to our state's capitol where I met with legislative leaders and pressed for these additional investments.
On Tuesday, I along with the other NSHE presidents attended the Assembly Ways and Means and Senate Committee on Finance Subcommittees on K-12/Higher Education/CIP where the Nevada System of Higher Education budget was presented. There was limited time for public comment and ASCSN President William McCurdy II made an excellent case for state scholarships for low-income students.
On Thursday, the Senate Education Committee had a work session on a bill that would increase the minimum student credits required to obtain a Millennium Scholarship. This bill increases the minimum credits required to be eligible to receive the scholarship from six credits to nine. We support this bill that is sponsored by Sen. Joyce Woodhouse, understanding that we serve many who cannot attend full time. We are watching this bill closely as it transforms and will keep you posted as we know more. ASCSN plans on providing input as well.
I'll be holding a town hall on March 10 at 3 p.m. at Henderson where we can discuss all of these issues in greater detail. I urge you to come and participate.
First CSN Institutional Advisory Council Meeting
The first Institutional Advisory Council meetings for the state's four community colleges took place earlier this month. Dr. Walter Bumphus, the President of the American Association of Community Colleges, addressed the councils simultaneously. His remarks and presentation are available on the IAC's site. The Council then elected a chair, Dr. Nancy Brune, and a vice chair, Jose Solorio.
We are very fortunate to have such active and highly respected community leaders taking on this new role. The minutes from the first meeting and subsequent meetings will be posted on the IAC's web page (www.csn.edu/IAC) once approved.
CSN PTK Students Make Us Proud!
Each year, the Phi Theta Kappa Honor Society tasks each chapter with a year-long scholarly project known as Honors in Action. Last year's topic was Frontiers and the Spirit of Exploration. CSN's chapter of Phi Theta Kappa elected to focus their research in the health and medicine field, specifically Nanotechnology.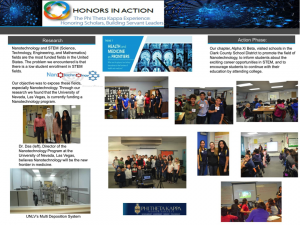 The project included developing research plans and objectives, locating primary and secondary sources, interviewing CSN & UNLV Professors, touring the Nanotechnology lab at UNLV, developing a plan of action and objectives, carrying out the plan, and writing the results.
After conducting extensive research, the problem they identified was a lack of students majoring in the STEM fields. To address the problem locally, the students visited various elementary classrooms within the CCSD and conducted appropriate, grade-level presentations on Nanotechnology in an effort to spark interest and increase the number of students majoring in STEM. Below is the poster highlighting their year-long project in 2014. Congratulations to CSN's chapter of Phi Theta Kappa for promoting scholarly research within the college and the community.
In addition, each year Phi Theta Kappa publishes an anthology of literary works from students who are members of the honor society across the country. This year's publication featured two CSN students whose literary works were selected to be published and were recipients of the Reynold's Award (a $500 scholarship). Congratulations to Cassandra Van Gelder and Daryl Watkins.
Faculty & Staff Questions:
"How does CSN feel about legislation allowing guns on campus?" CSN and CSN's Department of Police have a long history of opposing this legislation for a number of reasons. The primary one being that in an emergency situation it is very difficult for Police to distinguish suspects when there are Good Samaritans brandishing weapons. There is also increased potential for violence or accidents with increased access to guns on campus. Many opponents have also noticed the chilling effect that such a weapon – if not obviously concealed – might have on classroom discussions and others have questioned how guns on campus might impact the minors enrolled through the Community College High School or the children at our daycares.
Best regards to all.
–Mike Richards