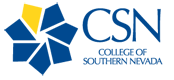 For Immediate Release:
Contact: Richard Lake, CSN Public Relations Specialist, 702-651-7715, Richard.Lake@csn.edu
CSN Invites Community Input on Physical Master Plans
CSN to host open houses this month to collect feedback on the master plans for campuses – a CSN blueprint to maximize space!
 LAS VEGAS, March 12, 2015 – What will the College of Southern Nevada look like when all of its campuses are built out to maximum capacity? CSN officials want your feedback.
The college is in the process of developing its campuses' physical master plans. Once finalized, these plans will provide college officials with a blueprint to maximize space at each of CSN's campuses and identify where potential new buildings, parking and student spaces are desired. Campus physical master plans are important documents in public higher education that facilitate construction priorities and effectiveness of campus development priorities in place so that when and if funds become available, CSN officials have plans that have received community and college input.
The college will have three open houses at the end of March at each campus, where college officials and architects will be on hand to answer questions and collect feedback on these proposed plans.
CSN Physical Master Plan Open Houses
Charleston Campus
Tuesday, March 24, 10 a.m. to 5 p.m.
Paul E. Meacham Student Services Building Lobby
Cheyenne Campus
Wednesday, March 25, 10 a.m. to 5 p.m.
June Whitley Student Center
Henderson Campus
Thursday, March 26,10 a.m. to 6 p.m.
C Building Lobby
Members of the public and college community can also ask questions or provide input by emailing csnmasterplans@csn.edu.
About CSN:
Founded in 1971, the College of Southern Nevada (csn.edu) is the state's largest and most ethnically diverse higher education institution. CSN is a community college and offers certificate and associate-degree programs, including fully transferable degrees that allow students to enter four-year institutions as juniors and career and technical programs that allow students to enter a meaningful career upon completion. CSN has three niche bachelor's degrees in health sciences. In addition, the college provides adult basic education and non-credit workforce training through its Division of Workforce & Education. CSN is a Minority Serving and a Hispanic Serving Institution, where students create flexible, personalized schedules, including day, evening, weekend and online classes taught on three main campuses and multiple locations throughout Southern Nevada. CSN — your future starts here.
#   #   #