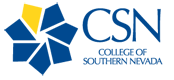 For Immediate Release:
Contact:          Richard Lake, CSN Public Relations Specialist, 702-651-7715, Richard.Lake@csn.edu
Federal Grant Will Support CSN Efforts to Expand Hispanic Education
CSN project titled "Linking with Latin America" to incorporate content relating to Latin America into humanities courses as the college's Hispanic population continues to increase
LAS VEGAS, March 24, 2015 – With more than one in four students at the College of Southern Nevada of Hispanic origin, the college will begin infusing content relating to Latin America and the Caribbean into its courses with help from a $116,806 grant from the National Endowment for the Humanities.
CSN will partner with the University of Pittsburgh's Center for Latin American Studies on the project, part of the NEH's Bridging Cultures at Community Colleges program.
CSN's project will be titled Linking with Latin America: The Border Crisis and Beyond. It will incorporate content related to Latin America and its cultures into humanities courses, bring in visiting scholars for expert seminars, better prepare humanities faculty for a large and increasing Hispanic population, and enhance faculty and staff sensitivity.
In January, CSN announced that it had met the criteria to become a Hispanic Serving Institution as described in the Higher Education Act. Approximately 26 percent of CSN's student body is Hispanic in fall 2014. To meet those criteria, the college had to show that it has increased programming for underrepresented minority and low-income students.
"This grant will enrich the classroom experience for students and professional development for faculty and staff with a better understanding and appreciation for Latin American culture," said CSN President Michael D. Richards. "This not only helps us serve our growing Hispanic student population well, it helps us prepare all of our students for successful entry into our global community."
Richards thanked Nevada's Congressional delegation for their help in securing the grant.
"Congratulations to the College of Southern Nevada on receiving the prestigious NEH Bridging Cultures at Community Colleges grant. This achievement not only reflects CSN's ongoing commitment to improving access to higher education and enhancing diversity but also to increasing students' exposure to different cultures from around the world," said Rep. Dina Titus (NV-01). "This grant will provide critical resources to strengthen faculty, staff, and students' knowledge and appreciation of the history and cultures of Latin America and the Caribbean. This is especially exciting for the growing Hispanic student population on campus."
Bridging Cultures at Community Colleges grants are intended to strengthen and enrich humanities education and scholarship at community colleges. Grants can be used to enhance the humanities content of existing programs, develop new programs, or lay the foundation for more extensive endeavors in the future.
About CSN:
Founded in 1971 and educating thousands of students a semester, the College of Southern Nevada (csn.edu) is the state's largest and most ethnically diverse higher education institution. CSN students can choose from 180 degree and certificate options in more than 100 areas of study, including more than 25 degree and certificate programs available entirely online. Students create flexible, personalized schedules, including day, evening, and weekend classes taught on three main campuses and multiple locations throughout Southern Nevada. CSN — your future starts here. CSN is an Equal Employment Opportunity/Affirmative Action institution. For more information, visit http://www.csn.edu/nondiscrimination
#   #   #