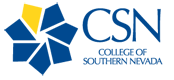 For Immediate Release:
Contact:          Richard Lake, CSN Public Relations Specialist, 702-651-7715, Richard.Lake@csn.edu
College of Southern Nevada to Institute Safe Zones
New program to help establish a welcoming, safe, inclusive environment for the LGBTQ community
LAS VEGAS, March 20, 2015 – College of Southern Nevada officials are excited to announce the launch of its Safe Zone program, a resource for the LGBTQ community at CSN.
The public is invited to attend the formal announcement of the program with CSN officials and community partners at 2:30 p.m. March 27 in the Paul E. Meacham Student Services building on the Charleston campus.
The Safe Zone program is modeled after programs at colleges and universities across the country. Its aim is to promote a welcoming, safe, and inclusive environment for members of LGBTQ communities and to educate and promote understanding, appreciation and respect for everyone
"The Safe Zone program is directly linked to the college's mission to create opportunities and change lives through access to quality teaching," said CSN President Michael Richards. "Students who don't feel safe and welcome at CSN or any college are, in effect, denied access. We want everyone to feel welcome at CSN."
The program includes training for CSN faculty and staff and the identification of Safe Zones throughout CSN's campuses. These Safe Zones will be easily identified by stickers placed in conspicuous areas, and will provide judgment-free zones for students to visit with faculty and staff who have gone through the training, and receive information about resources available in the community. "I am thrilled that this national initiative is coming to CSN," said Michael Dimengo, CEO of The Center, a Las Vegas nonprofit that supports the rights of the lesbian, gay, bisexual, transgender, and queer community. "This will be a resource for CSN's students that has been unavailable until now. We are glad to be a partner in this effort."
CSN student Michael Pitta said he wished there was a program like Safe Zones years ago, when he came out as gay. "It's important for students who are afraid to come out to their families to have a place to go to talk to someone without being judged," he said.
"The training this program offers is valuable and unique because it helps faculty and staff respond to issues that gay, lesbian, bisexual and transgender students face that no one else does," said CSN Communication Professor Owen Pillion, co-chair of the Queer Inclusive Campus Committee (QICC), which helped establish the program.
Who: CSN President Michael Richards, The Center CEO Michael Dimengo, CSN student Michael Pitta and CSN Professor and Co-Chair of the CSN QICC Owen Pillion
When: 2:30 p.m. on Friday, March 27
Where: Building D, Room 101, the Paul E. Meacham Student Services building on CSN's Charleston campus, located at 6375 W. Charleston Blvd.
About CSN:
Founded in 1971 and educating thousands of students a semester, the College of Southern Nevada (csn.edu) is the state's largest and most ethnically diverse higher education institution. CSN students can choose from 180 degree and certificate options in more than 100 areas of study, including more than 25 degree and certificate programs available entirely online. Students create flexible, personalized schedules, including day, evening, and weekend classes taught on three main campuses and multiple locations throughout Southern Nevada. CSN — your future starts here. CSN is an Equal Employment Opportunity/Affirmative Action institution. For more information, visit http://www.csn.edu/nondiscrimination
#   #   #