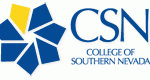 Media Advisory:
Contact:          Richard Lake, CSN Public Relations Specialist, 702-651-7715, Richard.Lake@csn.edu
CSN Marks Motorcycle Safety Awareness Month
State-licensed motorcycle safety program has trained tens of thousands of motorists
LAS VEGAS, May 4, 2015 — May is motorcycle safety awareness month, and the College of Southern Nevada wants to remind the community of our longstanding and successful Motorcycle Safety Program.
Started in 1983, the program has trained tens of thousands of motorcyclists to safely navigate the state's roadways. Its content was designed by the Motorcycle Safety Foundation and is licensed by the State of Nevada. The training program allows motorcyclists to obtain their Class M driver's license.
According to data from the Nevada Department of Public Safety, there were 55 fatalities in motorcycle crashes statewide last year, 38 of them in Clark County.
Roger Fox, CSN's Motorcycle Safety Program specialist, said training is critical for anyone who rides a motorcycle on the valley's roadways.
"Riding a motorcycle takes care," Fox said. "The more training a rider has had, the safer the roads become. These classes aren't just for beginners."
Classes teach everything from basic riding skills to strategies for operating a motorcycle in traffic.
More information and a full schedule of classes are available on CSN's Division of Workforce and Economic Development site, www.csn.edu/workforce.
To schedule an interview with Fox or to observe a class, please contact Richard Lake at 702-651-7715 or richard.lake@csn.edu.
About CSN:
Founded in 1971 and educating thousands of students a semester, the College of Southern Nevada (csn.edu) is the state's largest and most ethnically diverse higher education institution. CSN students can choose from 180 degree and certificate options in more than 100 areas of study, including more than 25 degree and certificate programs available entirely online. Students create flexible, personalized schedules, including day, evening, and weekend classes taught on three main campuses and multiple locations throughout Southern Nevada. CSN — your future starts here. CSN is an Equal Employment Opportunity/Affirmative Action institution. For more information, visit http://www.csn.edu/nondiscrimination