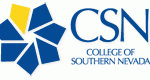 For Immediate Release:
Contact:          Richard Lake, CSN Public Relations Specialist, 702-651-7715, Richard.Lake@csn.edu
CSN to Graduate Record Number of Students
College's efforts to improve student services such as tutoring, counseling, a key to success
LAS VEGAS, May 7 — The College of Southern Nevada expects to graduate its largest class ever at its 43rd annual commencement ceremony May 18 at the Thomas & Mack Center.
A record 3,326 students are eligible to receive 3,578 degrees and certificates, according to preliminary data. Official numbers for the spring 2015 semester will be available once final semester grades are completed.
CSN has made a concerted effort in recent years to help students complete their education once enrolled. The college has launched or expanded services such as free, unlimited tutoring, math and writing resources centers on each campus, and dedicated counselors for degree-seeking students.
"Another year with a record number of graduates demonstrates that what we are doing is working," said CSN President Michael Richards. "We are proud of the Class of 2015 and I look forward to celebrating their accomplishments."
Among the graduating class, 36 percent are graduating with honors or high honors.
The graduating class includes some extraordinary students:
Andrea Wilkerson, a radiation therapy student who plans on working with cancer patients after graduation. Wilkerson earned a bachelor's degree in communication in 2006, but she felt like she had missed her calling. After volunteering with organizations that worked with terminal patients, she enrolled at CSN and last year was one of just 75 students nationwide selected to participate in the prestigious Student Leadership Development Program run by the American Society of Radiologic Technologists. "I feel like I'm about to go out there and change the world," Wilkerson said.
William McCurdy II, president of the Associated Students of the College of Southern Nevada. He grew up in West Las Vegas, the son of a schoolteacher and a pastor who worked for the local housing authority. McCurdy was a stellar athlete at Palos Verdes High School, but ended up dropping out after fathering a child. Undeterred, McCurdy later came back to school and succeeded through hard work and perseverance. He plans on attending UNLV, and later going to law school. "CSN set the perfect foundation for me," McCurdy said.
Karin Rodriguez, an ASCSN senator and our commencement speaker. Rodriguez, who also plans to pursue a bachelor's degree and attend law school, will be the first from his family to graduate from college. Though he started college several years ago and dropped out, the birth of his first child changed his life. He wanted to be successful for his daughter, so he enrolled at CSN. While working full time and serving in the student government, Rodriguez persevered. He credits the example his mother set for him for his success.
Trehixi (pronounced like Tracy) Galvan, this year's Regents' Scholar award winner and president of CSN's chapter of the Phi Theta Kappa Honor Society. Galvan is a first-generation college student whose family immigrated to the United States from Mexico when she was in elementary school. She plans on enrolling in Nevada State College and studying to become a teacher with an emphasis in bilingual studies. She credits her teachers at CSN and elsewhere for her success.
Each of these students will be available for media interviews at the Commencement Ceremony.
CSN's 43rd Commencement Ceremony will begin at 6 p.m. Monday, May 18, at the Thomas & Mack Center on UNLV's campus. Media interested in talking to students prior to the commencement between 5 p.m. and 6 p.m. are encouraged to contact CSN Public Relations Specialist Richard Lake at richard.lake@csn.edu on the day of the event. The ceremony will also be streamed live on the Internet and available to the public at www.csn.edu/grad.
Who: Thousands of new college graduates
What: 43rd CSN Commencement Ceremony
When: 6 p.m., Monday, May 18
Where: Thomas & Mack Center
Streaming: www.csn.edu/grad
Hashtag: Search #csngrad15
CSN DEGREES AND CERTIFICATES AWARDED PER YEAR    
| | | | | |
| --- | --- | --- | --- | --- |
| Academic Year | 2011-12 | 2012-13 | 2013-14 | 2014-15* |
| Degrees/Certificates | 2,350 | 2,742 | 2,882 | 3,578 |
| Students | 2,228 | 2,574 | 2,665 | 3,326 |
* 2014-15 totals are projected. Final numbers will be available once spring 2015 semester grades are completed
About CSN:
Founded in 1971 and educating thousands of students a semester, the College of Southern Nevada (csn.edu) is the state's largest and most ethnically diverse higher education institution. CSN students can choose from 180 degree and certificate options in more than 100 areas of study, including more than 25 degree and certificate programs available entirely online. Students create flexible, personalized schedules, including day, evening, and weekend classes taught on three main campuses and multiple locations throughout Southern Nevada. CSN — your future starts here. CSN is an Equal Employment Opportunity/Affirmative Action institution. For more information, visit http://www.csn.edu/nondiscrimination
#   #   #