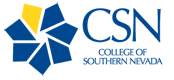 For Immediate Release:
Contact:          Richard Lake, CSN Public Relations Specialist, 702-651-7715, Richard.Lake@csn.edu
Juanita LeFlore Chrysanthou brings broad knowledge of student success initiatives to Nevada's largest higher education institution
LAS VEGAS, Sept. 1, 2015 – The College of Southern Nevada is proud to announce the hiring of Juanita LeFlore Chrysanthou as its new Vice President for Student Affairs.
Chrysanthou starts her new position today, joining vice presidents for academic affairs, finance, and strategic initiatives and administrative services.
She comes to CSN from the Lone Star College System, where she served as vice chancellor of student success. She also has experience with the Nevada System of Higher Education, serving as vice president for student services at Truckee Meadows Community College from 2004 to 2009. In all, Chrysanthou brings more than 25 years of experience in higher education administration to her duties at CSN.
"Chrysanthou brings a wealth of knowledge and experience leading student success initiatives to CSN, and we're excited to welcome her. Student success is among our highest priorities," said CSN President Dr. Michael D. Richards. "In addition to student success, she brings significant experience in financial aid and student enrollment planning."
Chrysanthou also has experience at a Hispanic Serving Institution, co-directing a Title V grant while at Bakersfield College. CSN recently announced it met the federal criteria to become a Hispanic Serving Institution.
"I've dedicated my career to community college students, and I am looking forward to working students at the College of Southern Nevada," Chrysanthou said. "I can't wait to get started."
About CSN:
Founded in 1971 and educating thousands of students a semester, the College of Southern Nevada (csn.edu) is the state's largest and most ethnically diverse higher education institution. CSN students can choose from over 150 degree and certificate options in more than 90 areas of study, including 25 degree and certificate programs available entirely online. Students create flexible, personalized schedules, including day, evening, and weekend classes taught on three main campuses and multiple locations throughout Southern Nevada. CSN — your future starts here. CSN is an Equal Employment Opportunity/Affirmative Action institution. For more information, visit http://www.csn.edu/nondiscrimination
#   #   #