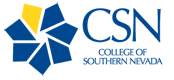 Media Advisory:
Contact:          Richard Lake, CSN Public Relations Specialist, 702-651-7715, Richard.Lake@csn.edu
Follett Higher Education Group & CSN students to Make Donation to Three Square
Successful drive fueled by student contributions of canned goods, cash
LAS VEGAS, Sept. 4, 2015 – Follett Higher Education Group's College of Southern Nevada Bookstores will present a check for $4,000 to local food bank Three Square after a successful food drive.
CSN's three bookstores held the drive in the week leading up to the start of classes on Aug. 24, and in the first week of class. In all, they took in 428 pounds of non-perishable food, in addition to the money.
"We far exceeded our goal," said Ryan Livengood, district director for Follett. He said the event was such a success that plans are being made to do it again.
Students were given bookstore discounts and gift certificates in exchange for donating.
Who: Officials from Follett, CSN and Three Square
What: Donation of $4,000
When: 2 p.m. Tuesday, Sept. 8, 2015
Where: CSN Cheyenne campus, Building F, on the north end of campus
About CSN:
Founded in 1971 and educating thousands of students a semester, the College of Southern Nevada (csn.edu) is the state's largest and most ethnically diverse higher education institution. CSN students can choose from over 150 degree and certificate options in more than 90 areas of study, including 25 degree and certificate programs available entirely online. Students create flexible, personalized schedules, including day, evening, and weekend classes taught on three main campuses and multiple locations throughout Southern Nevada. CSN — your future starts here. CSN is an Equal Employment Opportunity/Affirmative Action institution. For more information, visit http://www.csn.edu/nondiscrimination
#   #   #