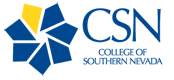 For Immediate Release:
Contact:          Richard Lake, CSN Public Relations Specialist, 702-651-7715, Richard.Lake@csn.edu
CSN, Local Chefs Partner to Feed Schoolchildren
The college's culinary program will join nonprofit Chefs for Kids at Lois Craig Elementary School
LAS VEGAS, Sept. 8, 2015 – The College of Southern Nevada's culinary program will team up with local nonprofit Chefs for Kids to deliver a freshly cooked, healthy meal to local schoolchildren.
Students and faculty from CSN's award-winning program will begin preparing food at 4 a.m. Thursday, Sept. 17 at the college's Cheyenne campus. They will serve the breakfast to approximately 800 children at Lois Craig Elementary School at 8:45 a.m.
Chefs for Kids helps provide nutrition education to first- and second-grade children in "high needs" schools in the Clark County School District. The program is in its 25th year.
"Our ultimate goal is to end the childhood nutrition problem," said Chef Tom Rosenberger, chair of CSN's Hospitality Management Department and a member of the Chefs for Kids Board of Directors.
The food for the breakfast was donated by local businesses and will feature healthy choices, including fresh fruit, potatoes, eggs, sausage and a muffin.
Chefs for Kids is a joint venture of the American Culinary Federation Chefs Las Vegas and the University of Nevada Cooperative Extension. The program works to eliminate malnutrition and hunger through education and awareness. For more information on the group, visit www.chefsforkids.org.
What: CSN and Chefs for Kids serve breakfast
When: 8:45 a.m. Thursday, Sept. 17, 2015
Where: CSN Cheyenne campus and Lois Craig Elementary School, 2637 E Gowan Rd, North Las Vegas.
About CSN:
Founded in 1971 and educating thousands of students a semester, the College of Southern Nevada (csn.edu) is the state's largest and most ethnically diverse higher education institution. CSN students can choose from over 150 degree and certificate options in more than 90 areas of study, including 25 degree and certificate programs available entirely online. Students create flexible, personalized schedules, including day, evening, and weekend classes taught on three main campuses and multiple locations throughout Southern Nevada. CSN — your future starts here. CSN is an Equal Employment Opportunity/Affirmative Action institution. For more information, visit http://www.csn.edu/nondiscrimination
#   #   #