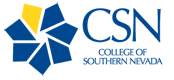 For Immediate Release:
Contact:          Richard Lake, CSN Public Relations Specialist, 702-651-7715, Richard.Lake@csn.edu
CSN Receives Governor's STEM Grant to Train the Future of Southern Nevada's Cyber Security Defense 
LAS VEGAS, Feb. 5, 2016 – The Governor's Office of Science, Innovation and Technology (OSIT) announced it has awarded Round 2 STEM Workforce Challenge Grants to Nevada training providers throughout the state, including the College of Southern Nevada.
CSN will receive $149,882 to partner with Switch SUPERNAP and the member companies of the Las Vegas Chapter of the Information Systems Audit and Control Association (ISACA) to create a new Cyber Security Associate of Applied Science Degree and an advanced Certificate of Achievement.
"This grant is critical to get us the kind of modern security tools needed to train the future front line of Southern Nevada's cyber security defense," said CSN School of Advanced & Applied Technologies Dean Michael Spangler.
The STEM Workforce Challenge Grant will fund the development of five new CSN courses that better meet the industry's needs, including Ethical Hacking, Physical Security, Incident Handling, Advanced Network Security, and Penetration Testing. As a result of the training, students will be prepared for the following six industry certifications: CompTIA A+, CompTIA Network+, CompTIA Security+, Cisco CCENT, EC-Council CEH, and ECIH. The grant will also fund the creation of a state-of-the-art classroom, which will allow CSN to expand the program from about 200 students to 250 students.
More information about CSN's grant and others awarded in this round can be found at http://osit.nv.gov/grants/grants.
About CSN:
Founded in 1971 and educating thousands of students a semester, the College of Southern Nevada (csn.edu) is the state's largest and most ethnically diverse higher education institution. CSN students can choose from over 150 degree and certificate options in more than 90 areas of study, including 25 degree and certificate programs available entirely online. Students create flexible, personalized schedules, including day, evening, and weekend classes taught on three main campuses and multiple locations throughout Southern Nevada. CSN — your future starts here. CSN is an Equal Employment Opportunity/Affirmative Action institution. For more information, visit http://www.csn.edu/nondiscrimination
#   #   #