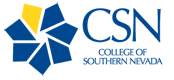 For Immediate Release:
Contact:          Richard Lake, CSN Public Relations Specialist, 702-651-7715, Richard.Lake@csn.edu
CSN Career Fair Connects Job Seekers and Employers
The public is invited to showcase job skills to dozens of recruiters at the March 2 event
LAS VEGAS, Feb. 17, 2016 – The College of Southern Nevada will soon host its Spring 2016 Career Fair, where more than three dozen employers will tap the local talent pool to fill hundreds of job opportunities and internships available locally and nationwide. The event is open to the public and held from 10 a.m. to 1 p.m. Wednesday, March 2, on CSN's Cheyenne campus in the June Whitley Student Center.
The open forum allows job applicants the opportunity to meet recruiters, learn about job openings and gather employment information. Applicants should dress in interview attire, bring resumes and be prepared for interviews.
"The Spring Career Fair offers CSN students and other job seekers a chance to meet potential employers face to face," said Bradford Glover, director of Career Services & Reentry at CSN. "It's not only a great networking opportunity, but also a forum for job seekers to learn more about potential employers. Recruiters will be on hand to provide detailed information about their organizations and the jobs available."
The wide array of organizations planning to attend include Ameriprise Financial, CBS Radio, the City of Las Vegas, the Clark County School District, CSN, the Girl Scouts of Southern Nevada, the Nevada Gaming Control Board, the San Bernardino County Sheriff's Department, Southwest Gas Corporation, Wells Fargo and many others.
For more information or to host an employer booth, contact CSN Career Services, 702-651-4700.
About CSN:
Founded in 1971 and educating thousands of students a semester, the College of Southern Nevada (csn.edu) is the state's largest and most ethnically diverse higher education institution. CSN students can choose from over 150 degree and certificate options in more than 90 areas of study, including 25 degree and certificate programs available entirely online. Students create flexible, personalized schedules, including day, evening, and weekend classes taught on three main campuses and multiple locations throughout Southern Nevada. CSN — your future starts here. CSN is an Equal Employment Opportunity/Affirmative Action institution. For more information, visit http://www.csn.edu/nondiscrimination
#   #   #