We are at the midpoint of the semester and there are a number of updates for you included in this month's Chronicle.
Upcoming Events
Nov. 3 Southern Nevada Diversity Summit at UNLV, all day
Nov. 4 Final Multi-Campus District Study Meeting at NSHE Las Vegas Office, 8:30 a.m.
Nov. 5 Employee Softball Tournament, Henderson Campus, 10 a.m.
Nov. 8 Election Day
Nov. 11 CSN will be closed for Veteran's Day
Nov. 15-17 Classified Staff Professional Development Days
Nov. 17 OTS Recognition, North Las Vegas Campus, 3 p.m.
Nov. 24-25 CSN will be closed for Thanksgiving and Family Day
Nov. 28 Board of Regents Committee on Community Colleges
Dec. 1-2 Board of Regents Meeting at UNLV
Dec. 5 CSN Magical Forest Night at Opportunity Village
Dec. 8 CSN Holiday Party at the West Gate Hotel
Hispanic Heritage Month
Thanks to all the students, staff and faculty who participated in Hispanic Heritage Month activities at CSN. As you know we celebrate our position as the most diverse higher education institution in Nevada and as the first Hispanic Serving Institution in the state. This photo here is from the CSN Latino Alliance "La Gran Finale" event held on Tuesday, Oct. 11, 2016.
Budget Reductions
The revenue forecast for the state's next budget cycle, starting July 1, 2017, is bleak. Budget officials estimate a $400 million shortfall and all state agencies, including NSHE, are being asked to cut their requests down by 5 percent. For CSN, this is equivalent to a $4.4 million cut each year over the next biennium. We're looking at our expenditures now and looking for areas to adjust and scale back.
Coca-Cola Leaders of Promise Scholars
Two CSN students have been named 2016 Coca-Cola Leaders of Promise Scholars, and we couldn't be more proud. Jorge Lopez Alvarez and Jill Robinson both received the prestigious scholarship, awarded to only 200 community college students nationwide each year. This year's recipients were selected by a panel of independent judges from more than 1,100 applicants. The Leaders of Promise Scholarship is sponsored by the Coca-Cola Scholars Foundation.
Accounting Student Scholarship
The Accounting Department brought in several speakers for its lecture series in October and presented a student with a $500 scholarship. Congratulations to student Bethany Williams, who was honored with the scholarship for her excellent GPA and her commitment to the program. Speakers included Dennis Meservy who owns his own accounting firm, and Jeff Breeden and Brett Jackson of the CPA firm Stewart, Archibald, and Barney, as well as Scott Montes, Controller, of the Las Vegas 51s, and Darryl Raiford, an Accounting Department faculty member.
Engelstad Scholars
While on the topic of scholarships, it is important we highlight the Engelstad scholarship recipients, who received their awards this fall semester. A select group of 25 health sciences students were named and will receive a monetary scholarship funded through the Ralph and Betty Engelstad Foundation. The CSN Engelstad Scholars are distinguished students who have been accepted into one of CSN's limited entry health sciences programs. They display academic excellence, a commitment to serving the community and have demonstrated the ability to overcome barriers to pursue their education.
No Greater Odds Campus Premiere
As part of the presidential debate week events, CSN hosted the campus premiere of "No Greater Odds" at the North Las Vegas Campus. More than 200 people attended the event sponsored by the national nonprofit, College Promise Campaign, which organized a panel discussion following the film, including Mary Rauner, Director of Strategic Planning & Operations, Regional Educational Laboratory West, WestEd, Randy Smith, Executive Director, Rural Community College Alliance, Andrea Henderson, Executive Director, Oregon Community College Association, Reid Setzer, Deputy Director of Policy and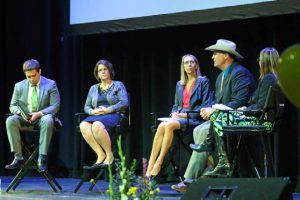 Legislative Affairs for Young Invincibles and Dr. Nancy Brune, executive director of the
Guinn Center for Policy Priorities and CSN IAC chair. It was an honor to have such an esteemed panel on campus.
Classified Professional Development Days
Classified staff professional development days will take place Nov. 15-17. If you supervise classified employees, please encourage them to attend. Professional development is critical to employees' personal and professional growth in the workplace. Registration is available on the CAPE site.
Questions from Faculty & Staff
"Will the projected $400 million state deficit impact CSN's current budget?"
No, we have no indication that the projected state deficit will impact the current year budget (FY17). The projected deficit has prompted the Governor's office to request the 2017-2019 biennial budget from all state agencies, including CSN, with a 5 percent reduction. The college displayed this as a one-line item reduction without specific reductions to areas or departments. The Governor's office will evaluate the biennial budget requests from all agencies to create his budget, which will be announced in late January.
"When will we develop the Northwest Campus?"
This fourth campus for CSN still has multiple steps to its development, and the first ones begin at the December meeting of the Board of Regents. We have been working to get the legal documentation in order, title to the property and approval of a revised development agreement with the City of Las Vegas. Both items are on the December agenda of the Board. Concurrently, we've been holding discussions with a development partner. Finalizing those discussions will be the next important step.
"When will we break ground on the new student unions?"
Student unions on each of the three campuses is a priority for student leaders and for CSN generally. General programming elements are completed, initial discussions on financing have begun, and we are aiming for the March meeting of the Board of Regents for fee and project approval.
"What is the role of the ombuds office?"
Several years ago two ombudspersons were appointed and trained to facilitate the sharing of information and to assist with conflicts as they may rise. Dr. Jennifer Basquiat and Mark Rauls serve as our ombudspersons. They operate, and must operate, with considerable autonomy. Each year they share with me themes or topics that could be better addressed through the President's office, but other than that I'm at arm's length. No names or details are ever shared. Employees can approach the ombudspersons with full anonymity and confidence.
Best,
Mike