Greetings, Colleagues!  We are more than a month into the semester and I hope all is going well. This month's Chronicle — sorry for its length — includes many updates and important information about initiatives, events, deadlines and exciting developments at CSN.  There is much going on and, as you'll see, considerable information to share with you.  Some of the information will be detailed further at my town halls next week, and you'll have a chance to ask questions.  Hope you can attend.
Nevada Promise is in Need of Mentors
Applications for Nevada Promise scholarships are currently being accepted through Oct. 31. As you will recall, this last-dollar scholarship program pays all of a student's mandatory tuition and fees for up to three years at CSN once several other forms of financial aid are taken into account. The students have to meet certain conditions, such as performing community service, maintaining 12 credits per semester and meeting with a mentor.

That is where you can come in. We are currently seeking mentors for these students, and I encourage you to sign up. Be a mentor and change a life. You can sign up on our website at www.csn.edu/mentor-application. For more information, contact promise@csn.edu or 702-651-7500.
Nevada Promise Partnership event
There will be a kick off of Nevada Promise with a number of elected officials at 9:30 a.m. Tuesday, Oct. 3 at Cheyenne High School. I am excited about this event. We expect to hear from Nevada System of Higher Education Chancellor Thom Reilly, Las Vegas Mayor Carolyn Goodman, North Las Vegas Mayor John Lee, State Sen. Mo Dennis, State Sen. Becky Harris, Clark County School District Superintendent Pat Skorkowsky and other CCSD officials and students to help us spread the word about the Oct. 31 application deadline.
It is wonderful to see the community come together over such an important issue, and it's always a pleasure when CSN gets to collaborate with the Clark County School District to help students transition from the K-12 system into higher education.
Moving Toward a Common Student Experience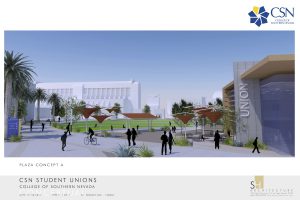 We've been on this journey toward becoming a multi-campus college district for a year now. The first series of multi-campus district committee meetings took place in September 2016. Much has happened since then. From Board of Regent's presentations, legislative updates and stakeholder reviews to round tables, town halls and peer reviews, we questioned, we listened and we learned as much as we could. We took our findings and we turned them inside out so we could build a solid foundation from which to work.
I am pleased to report that we are now positioned to transform the student experience at each of our three main campuses. Here are some of the impacts:
We have hired 8 new/replacement advisors and additional faculty from student fee revenues — the 4 percent tuition and fee increase;
We are assigning full-time advisors to the Henderson campus (a 22 percent increase in the number of advisors there) and ensuring that other student services at that campus are in place;
We have secured external leases in order to free up space for more classrooms and student services at the Henderson campus;
We have secured funding beginning in FY 2019 to hire campus administrators — Provosts and Vice Presidents — to coordinate day-to-day operations on the three campuses;
We have planned the "domino effect" of vacated space that will allow our facilities maintenance folks to relocate, vacating space at the North Las Vegas campus that will become a student success center;
We have begun preparations on each of our campuses that will allow us to break ground on our new student unions this spring.
It's an exciting time and I will continue to keep you updated here each month. We will also be adding content to our new webpage at www.csn.edu/experience as it becomes available. You will find links to prior reports and presentations as well as new links, such as our recently added FAQs.
We're Making It Easier to Publicize Your College Event!

We are in the process of revising our Upcoming Event email system to reduce the number of individual event emails you receive. A new online event publicity request form launches Monday, Oct. 2. This new form can be accessed from your GoCSN portal and works across all devices and browsers. We will follow this up with the release of the new CSN Weekly format by the start of the spring semester. Please email marketing@csn.edu with questions or for more information.
Counseling and Psychological Services
I wanted to remind everyone that our Counseling and Psychological Services team offers services to students as well as faculty and staff, and the services are always free and confidential.
Services available for faculty and staff include consultations, crisis consultation, outreach presentations to classes, campus groups and departments, educational workshops and information about mental health resources available in the community.
Experts can assist faculty and staff by helping with student-specific concerns or classroom situations. For more, visit www.csn.edu/caps.
CSN Coyotes
Your CSN Coyotes are now in conference play in both men's & women's soccer as well as volleyball. Please visit www.csncoyotes.com for the full schedule of games.
The Coyotes have several events coming up, as well.
The Region 18 Men's and Women's Soccer Tournament will be Oct. 26-28. The winner of The SWAC Conference will host the tournament.
The Region 18 Volleyball Tournament will be Nov. 3 & 4. The winner of The SWAC Conference will host the tournament.
And the CSN Athletics Golf Tournament will be Nov. 17 at the Revere Golf Club, with a shotgun start at 8 a.m.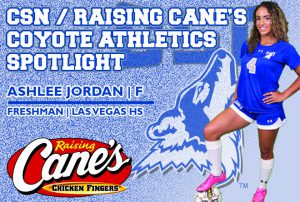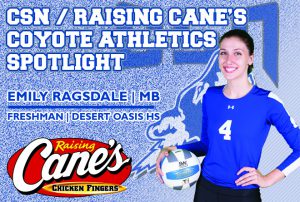 More exciting athletics news: The Coyotes just released the CSN Raising Cane's Athletic Spotlight showcasing two student athletes. Emily Ragsdale is a freshman playing middle blocker on the Lady Coyote Volleyball Team. Ashlee Jordan is a freshman and a forward on the Lady Coyote Soccer Team. Congratulations to them both.
Deferred Action for Childhood Arrivals Questions, Deadline
I wanted to take this opportunity for a last-minute reminder of the rapidly approaching deadline for Deferred Action for Childhood Arrivals (DACA) Program recipients with permits expiring in the next six months to file the renewal application as soon as possible and before Oct. 2 to ensure it is received by the Oct. 5 deadline.
As I mentioned in a recent college-wide communication, my office has received a significant number of calls from students, faculty, staff, and community members inquiring about what the decision from the U.S. Department of Justice to end the program means to our DACA students.
There have been particular questions about the deadline to reapply for the program and the expiration of the Employment Authorization Documents (EAD).
DACA and EADs will remain valid until the expiration date. To determine the expiration date, please refer to the I-795 Approval Notice and the EAD.
Please remember new DACA applications are not being accepted and that the Department of Homeland Security will no longer grant DACA recipients permission to travel abroad.
We are committed to supporting all students who wish to pursuit their educational goals at CSN. We will continue encouraging our elected officials to work towards a permanent solution.
DACA Advice Forum
There will be an immigration information and advice forum designed for international, DACA and undocumented students from 4-6 p.m. Wednesday, Oct. 4 on the North Las Vegas Campus, June Whitley Student Lounge. Experts will be on hand to provide reliable and practical advice for college students and the general public on immigration topics. It is sponsored by CSN, UNLV, Nevada State College, the Legal Aid Center of Southern Nevada and the ACLU of Nevada. You can RSVP to 702-651-7607 or diversity@csn.edu.
President's Town Hall Series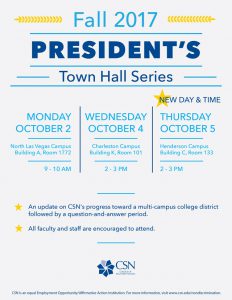 I will be holding town hall meetings on each campus in the coming days.
9-10 a.m. Monday, Oct. 2, on the North Las Vegas Campus, Building A, room 1772
2-3 p.m. Wednesday, Oct. 4, on the Charleston Campus, Building K, room 101
2-3 p.m. Thursday, Oct. 5, on the Henderson Campus, Building C, room 133
I expect to cover a range of important topics, including the multi-campus college district. All faculty and staff are encouraged to attend. There will be a question and answer session following my remarks.
CSN Student Film Showcase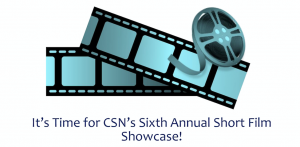 You are invited to the College of Southern Nevada's Sixth Annual Short Film Showcase at 6:30 p.m. Friday, Oct. 13. The two-hour showcase will have 10 short films, including documentaries, experimental, narrative films and more, all produced in the past year within the Videography & Film Program. This year students in the program were nominated for 26 Student Production Emmy Awards and ultimately won a national record 14 (Pacific Southwest Region Emmys). The event is free and open to the public. Following the screening there will be prizes for top film categories (last year sponsors contributed $10,000 in prizes) and a Q&A with filmmakers. Enjoy the high quality of filmmaking at CSN and meet a new generation of filmmakers in Las Vegas. The Short Film Showcase will be held in the Horn Theatre on the CSN North Las Vegas Campus. We hope to see you there.
Workday Goes Live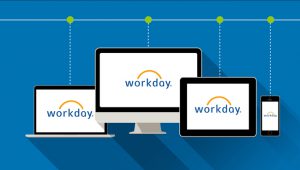 Workday will go live on Monday, Oct. 2! If you have not yet completed your training, you can meet the Workday team on Monday on any of our three campuses:
Charleston Campus, B Building Lobby
North Las Vegas Campus, A Building Lobby
Henderson Campus, C Building Lobby
I encourage you to attend one of these sessions if you have not already had the training. In addition, you can access the Workday module located in CANVAS where you can view a short video on how to navigate Workday, review training material and browse job aids to guide you through the system. Or contact the CAPE office for further training opportunities.
Migrating to the Workday software has been all-consuming for many of our folks.  Under the the leadership of Vice President Mary Kaye Bailey and the coordination of many team leaders and staff in finance and human resources, the change is well underway. I want to express appreciation for all the work, the training, the hours and hours of planning and implementation this project has required. Thank you all!!
2017 NSHE Southern Nevada Diversity Summit
CSN is proud to once again host the NSHE Southern Nevada Diversity Summit this year. It will take place from 7:45 a.m. to 5 p.m. Friday, Oct. 6, in various locations on the North Las Vegas Campus. Faculty, staff and students are encouraged to attend. As you know, diversity and inclusion are among the core values in CSN's mission statement. They are not simply words to us, but important real-world concepts that guide what we do.
This year's theme is Engines of Change: The Power of Community and Individual Action. The keynote speaker will be Ranjit Sidhu, President & CEO of the National Council for Community and Education Partnerships.
Topics scheduled to be covered include everything from emotional intelligence to superheroes. Please take a look at the entire schedule at www.csn.edu/diversity and choose which session you plan on attending.
CSN Bookstores Food Drive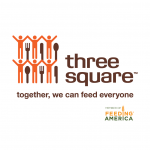 CSN's three bookstores held a food drive benefiting Three Square in August and September, raising approximately $7,500 for the local food bank. In addition to the cash donated by CSN faculty, staff and students, 550 pounds of non-perishable food was also donated. Follett Higher Education Group's support of this initiative was instrumental to its success. This record-setting campaign demonstrates the commitment CSN's students, staff, and faculty have to contributing to the local community. Congratulations to everyone involved!
Revive Brand Wins!
Congratulations to Revive Brand Co., a local small business with roots at CSN, for winning the $20,000 grand prize recently in the Cox Communications Get Started Las Vegas entrepreneurship contest. Wow! Revive, which makes and sells clothing and accessories, is one of dozens of small businesses that began with help from CSN's Business Incubator program.
Nevada Day Reminder
A reminder that we will celebrate Nevada Day on Friday, Oct. 27 this year. The Silver State's 153rd birthday is reason enough for a day off halfway through the semester. Enjoy the holiday.
Solving Some of Our Critical Space Issues
I am pleased to announce several approvals by the Board of Regents at its September meeting that will help CSN better utilize the space we have, particularly in the area of student services.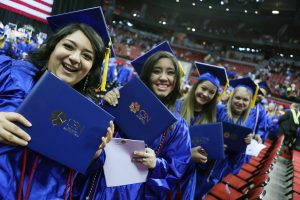 Two lease agreements for property on Water Street in downtown Henderson were approved. One will allow a team from facilities management to vacate space on the North Las Vegas Campus, which will then be used for student affairs functions, particularly advising and counseling. A second lease will allow the Southern Desert Regional Police Academy to leave the Henderson Campus and relocate. This will not only give the Law Enforcement Training Academy the space it needs, the move will also free up room on the Henderson Campus for more classrooms, faculty offices, student support space and student services offices, all critical as we transition to a multi-campus district model.
The Board also approved the bonding plans to finance our new student unions. The unions — one on each of our main campuses, encompassing 25,000 square feet each — are being designed right now for an anticipated spring 2018 groundbreaking and a fall 2019 grand opening.
In addition, our heating, ventilation, air conditioning and refrigeration students will be pleased to know that the days of commuting between the Henderson Campus, the North Las Vegas Campus and our leased facility on West Cheyenne Avenue are numbered. Our facilities management staff is working on a plan to consolidate the entire program at the Western Center, our learning center on the Western High School Campus. The transition will take some time, but it is already underway.
CSN's Two New Bachelor's Degrees Gain Approval
The Board of Regents has recently approved two new bachelor's degrees for CSN, which will bring the total available here to seven. We're very excited about this opportunity to offer much needed degrees to southern Nevadans that would otherwise not be available.
In June, the Board approved a new Bachelor of Applied Science degree in Deaf Studies, and in September, the Board approved a new Bachelor of Applied Science degree in Project Management.
Both new degrees are under review by the Northwest Commission on Colleges and Universities, CSN's official accrediting agency.
The Deaf Studies degree will have an emphasis in American Sign Language/English Interpreting. It will allow students pursuing national certification to be in compliance with degree mandates from the Registry of Interpreters for the Deaf and also meet the requirements for qualifications set forth in Nevada state law. This is sorely needed in Nevada, which has an acute shortage of interpreters for the deaf.
The Project Management degree is equally critical. The program will focus on developing student communication, project management skills, and decision-making abilities within a broader context rather than a single vocation. We expect the program to meet the rigorous standards as set forth by the Accreditation of Business School Programs, while also providing a seamless transfer process for Career and Technical Education students.
Our current bachelor's degrees are as follows:
Bachelor of Applied Science
Cardiorespiratory Sciences
Fire Technology
Medical Laboratory Sciences
Bachelor of Science
Dental Hygiene – Education Specialist
Dental Hygiene – Public Health Specialist
AT&T Aspire Foundation, CSN Foundation Partner on Scholarships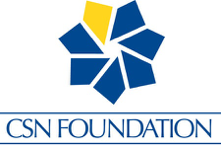 Earlier this month, the CSN Foundation and AT&T celebrated a new scholarship opportunity for Jumpstart students. The AT&T Aspire Foundation awarded $10,000 to CSN this summer to help 135 low-income high school students obtain college credit. The student recipients are taking a total of 476 college credits this semester through CSN's Jumpstart program at their high schools. To award the scholarships, CSN worked with Clark County School District officials at the 21 high schools where CSN Jumpstart courses are offered. The CSN Jumpstart Program, which began in 2007, works with high school instructors to provide college courses at the high school campus, allowing juniors and seniors to obtain high school and college credit. CCSD instructors with collegiate-level credentials are certified through the program to teach CSN curricula so high school students are receiving the same course they would at a CSN campus.  
Questions and Answers
Is there any news about the anticipated presidential search at CSN?
With my retirement in January, the Nevada System of Higher Education's Board of Regents will soon begin the process of selecting a new president for CSN. While the details are still being worked out, Chancellor Thom Reilly will meet with the CSN Faculty Senate, and both Reilly and Board Chairman Kevin Page have forums planned for all three CSN campuses, likely in November. There will be a national search for the new president. Before a permanent president is selected, the Board may appoint either an interim or an acting president. The difference being that an interim president may one day become the permanent president, while an acting president may not. Look for more details soon from the Chancellor's office.
If we would like to publicize accomplishment in our area or we are asked for comment by the media, who should we contact?
We definitely want to hear about what is happening in your area. Make sure to email your accomplishments, recognitions and student stories to Dave Morgan in our marketing and communications office. Dave may be able to use them in our advertising materials or publicity efforts. His office oversees our marketing and internal communications efforts while also handling proactive public relations that generate positive press for CSN. If you have an idea for a story, reach out and let him know.
In terms of media comment, we encourage our faculty to share their knowledge and experience when it comes to a topic within their field. If you have a request you are uncomfortable addressing or you are asked to comment on an institutional issue and are unsure what to do, please contact Michael Flores. Michael is authorized to speak on behalf of the college and handles all reactive media relations that require official comment. He also directs our government affairs efforts, including local, state and federal agency relations, and works to ensure consistent communications with external constituents.
Best regards,
Mike