Greetings, colleagues. As we move toward the end of another semester, I have a few important news and event announcements to share. As always, it is an incredibly busy time at CSN, and I can't thank you enough for your hard work and dedication.
CSN Will Have a New Acting President
Please join me in congratulating Dr. Margo Martin on her appointment by the NSHE Board of Regents as CSN's acting president, to take effect after my retirement in January. Since joining CSN in June as the college's vice president of academic affairs, Dr. Martin has made an impression on both the CSN community and the state's higher education leaders. She brings 25 years of experience in higher education to CSN. Her invaluable knowledge and experience will help guide the college as the Board conducts a national search for a permanent president.
Welcome Dr. Lisandra De Jesus
Dr. Lisandra De Jesus has joined us as our new interim associate vice president, student services. She has over 17 years of experience in higher education, most recently as dean of student services at Albany Technical College. Please join me in welcoming her to our student affairs team.
Promise Mentors Needed

We are nearing the final push in our effort to get 1,500 people signed up to be mentors to our Nevada Promise students. CSN received more than 9,000 applications for the new scholarship, which pays all mandatory tuition and fees for qualified students, a true game-changer for Nevada. Among the requirements for those who receive the scholarship are community service and mentoring components. To learn more about becoming a mentor, visit www.csn.edu/promise
Student Union Artist Renderings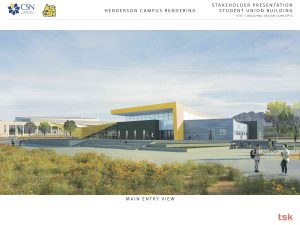 Plans for our new student union buildings are coming along nicely. Click here for more renderings. As you may recall, we'll build a 25,000-square-foot facility on each campus, each with the same design to streamline costs. Each will also include site work for pedestrian and vehicular traffic.  We anticipate a groundbreaking celebration this spring, with a grand opening set for fall 2019.
International Week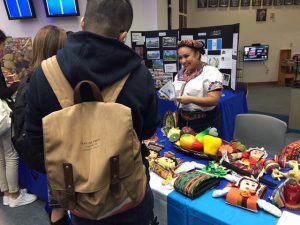 The Comprehensive Internationalization Committee, along with the Office of Inclusive Learning and Engagement, hosted this year's Ambassador's Day. This annual event is an opportunity for the college community to come together and virtually travel around the world interacting with different cultures at each exhibit. More than 330 students, faculty and staff had the opportunity to taste food from around the world.
Ombuds Forum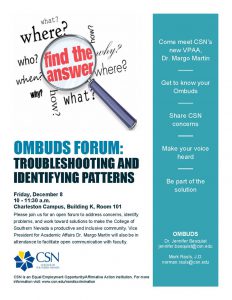 CSN's Office of the Ombudsperson is holding an Open Forum from 10-11:30 a.m. December 8 on the Charleston Campus, K-101. Please join ombuds Jennifer Basquiat and Mark Rauls to address concerns, identify problems, and work toward solutions to make CSN a more productive and inclusive community. Vice President for Academic Affairs Margo Martin will also be in attendance to facilitate open communication with faculty.
Higher Ed Night at the Magical Forest
You and a guest are invited to join in the Grand Lobby at Opportunity Village's Magical Forest for a private reception to honor CSN. Those planning to attend must RSVP by Monday, Dec. 4, by calling Christina at 702-880-4075. Attendees must then print and bring this flier at this link to be scanned for entry. Contact Christina at Opportunity Village for more information.
News From the CSN Foundation
Comprehensive Campaign Soft Launch   
On Nov. 2, the CSN Foundation held a breakfast at the Springs Preserve to kick off a comprehensive campaign to raise funds for scholarships, athletics and academic programs. The event was well attended with over 70 business and community leaders and also served to kick off our campaign to recruit mentors for the Nevada Promise Scholarship Program. We're calling this the 2021 CSN Challenge. Our goal is to recruit mentors and raise $5 million by our fiftieth anniversary in 2021. One of my favorite ideas about this campaign is to raise funds for our students in the growing number of bachelor degree programs at CSN.
Wilma E. Motley Scholarship Endowment
This month, a new scholarship endowment was created for fourth year dental hygiene students. The Wilma E. Motley Endowment is named in honor of the recognized leader in dental hygiene who passed away in 2005. Mrs. Motley was a faculty member at the University Southern California in dental hygiene. She wrote two key textbooks for the discipline, on ethics and the history of dental hygiene. She served on numerous boards and received many recognitions, one of which was the rare distinction of appointment as an honorary member of the American Dental Association. We are proud to have this endowment named after such an important figure in this field and cannot wait for our students to learn more about her.
Employee Giving Campaign
The Foundation also launched an employee giving campaign called The Coyote Commitment. You can choose to make a monthly donation through payroll deductions for as little as $10 a month. Contact the CSN Foundation at foundation@csn.edu for more information or to get started.
Questions and Answers
 Is the Faculty & Staff softball game scheduled for December 2 replacing the Hungry Games?
No, it is a softball game only that was put together by faculty and staff for the faculty and staff. The Hungry Games will still happen, but will be moved to the spring semester this year.
I understand there's a new process for scheduling events. How will that work?
CSN's new Events Management Office was established to make event planning more efficient and ensure your events are more effective. The office is the central place for coordinating, planning and hosting events at CSN. Please visit the new website at www.csn.edu/eventrequest to learn more about event guidelines and procedures. Instructions for requesting space are on the website. For more information, please call 702-651-3590 or email eventsoffice@csn.edu.
Representatives of the International Association of Campus Law Enforcement Administrators were on campus recently to solicit feedback and opinions from the CSN community on a possible consolidation of southern Nevada higher education police departments, including CSN's. When can we expect to see the results of their visit?
The Board of Regents has been studying whether consolidation of law enforcement services might save the system some money while maintaining the level of safety and security we have all become accustomed to. As part of that process, the IACLEA representatives visited the higher education institutions in southern Nevada, including CSN, to hear our questions and concerns. The group is expected to issue its report to the Board in the spring. We will keep you updated as we hear more.
A note on the new Chronicle format
I hope my monthly Chronicles are an important part of how you stay informed about what is happening at and around CSN. We are always trying to make communication more effective and efficient. To that end, we have created this new format with the entire content of the Chronicle embedded in your email. We hope this will make the Chronicle more user friendly and easier to navigate.
Best,
Mike