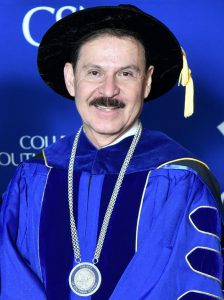 "The College of Southern Nevada empowers our students and communities to achieve, succeed, and prosper."
CSN's new Mission Statement
"CSN is recognized as a leader among community colleges in fostering student success, shared governance, and performance excellence."
CSN's new Vision Statement
Our new mission and vision statements were approved today by the NSHE Board of Regents. Together, they encapsulate our purpose in a few simple words, but they are more than that. To me, our mission affirms our focus on student learning and success in the classroom, in life, and in the economy. Our mission also affirms our responsibility and impact on our diverse communities.
Along with our new mission and vision statements, the Board also approved our revised strategic plan, which you are all aware we have been working extremely hard on. I want to thank everyone involved, particularly Patty Charlton and Dr. Joshua Levin, who led the strategic planning team and worked hard to ensure the plan reflects the needs of our students and our diverse communities.
Please take a moment to review the revised plan, which you will recall was put together with a great deal of input from our internal and external stakeholders. I am proud of what the team produced. This is more than a document, but rather a guide that lays out what we want to accomplish and how best to get there. In short: It is a roadmap to help ensure that we are always doing our best for our students.
Federico
In this issue:
NSHE Regents Meeting
Update: Important Coronavirus Precautions
CSN & Workforce Connections Partnership
Accreditation Update
Henderson Health & Science Building
MGM Foundation Supports Scholarships
2020 Census
CSN Connections
Raymond Santana Comes to CSN
CSN Ombuds Coffee Corner
48th Annual Commencement Ceremony
Spring 2020 Enrollment
NSHE Regents Meeting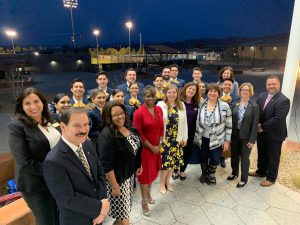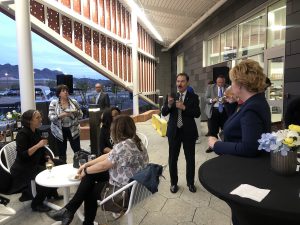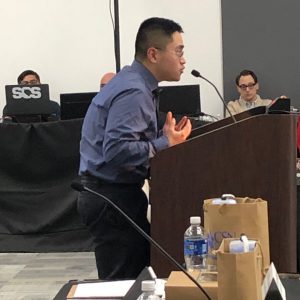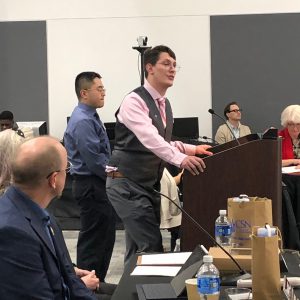 The NSHE Board of Regents has been meeting on our Henderson Campus this week. I hope you got the opportunity to attend, as many important topics were discussed. In addition to approving our strategic plan and mi
ssion statement, as I discussed above, the Re
gents also approved several very important awards.
Update: Important Coronavirus Precautions
There is understandable concern regarding the coronavirus, and rest assured that CSN is taking the matter seriously. As of today, there have been no confirmed cases reported in Nevada — the Southern Nevada Health District did announce the first presumptive positive case of COVID-19 in a Clark County Resident. Test results are considered "presumptive positive" until the result is confirmed by the Centers for Disease Control and Prevention.
At CSN, we have created a website, www.csn.edu/coronavirus, to help keep the campus community up to date. You can see the latest news from the Centers for Disease Control and Prevention there, as well as updates from the Southern Nevada Health District. You can also read about precautions that we are already taking at CSN.
There is growing fear and misinformation surrounding the coronavirus. CSN supports all students, faculty and staff members regardless of their ethnicity or background. We are committed to creating a campus free of bias. Students in need of support are encouraged to contact CAPS and all members of the CSN community should report acts of bias or discrimination to the Office of Institutional Equity & Title IX.
Additionally, should you have any questions or concerns about CSN's precautions, please don't hesitate to reach out to Carey Sedlacek in Environmental Health & Safety at 702-651-4817.
MUTLICAMPUS UPDATE
CSN & Workforce Connections Partnership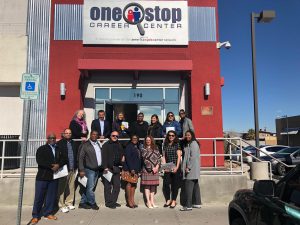 We are pleased to announce a developing partnership between CSN and Workforce Connections of Las Vegas. Workforce Connections provides access to 17 community agencies and services to individuals seeking employment, housing, food and transportation support through a one-stop delivery system and several affiliate centers serving southern Nevada. CSN and Workforce Connections are joining forces to create one-stop service centers at CSN's three student unions. The partnership is an important step in our efforts to eradicate equity gaps, scale resources and create seamless student services. As we continue to move forward together in our efforts to implement the multi-campus model, your continued support and collaboration is critical and greatly appreciated.
Discussions surrounding the addition of these exciting new wraparound services have been occurring for a number of months. Please read my blog post, linked below, to learn more about our implementation plans regarding some of our planned wraparound services.
As usual, we will keep you informed of our progress.
Read More on the President's Blog
CSN ACADEMICS
Accreditation Update
The CSN accreditation steering committee is actively working on collecting data to show mission fulfillment and institutional effectiveness for the Northwest Commission on Colleges and Universities as part of the formal accreditation process. The NWCCU's accreditation standards have been updated this year. You may review them at the link below, and learn more about the accreditation process on our accreditation page. Please know that the full engagement of every faculty and staff member will be necessary for a successful accreditation process.
In the spring 2021 semester, we will submit our year six Policies, Regulations and Financial Review report. This will be followed in spring 2022 when we submit our year seven Evaluation of Institutional Effectiveness report. All of this is in preparation for the formal site visit from NWCCU in the fall of 2022.
See the 2020 NWCCU Accreditation Standards
CSN/NSC Health & Science Building
I am so pleased that the CSN Foundation was able to raise $6 million to contribute to the health and science building on our Henderson Campus. The funds came from community leaders and our own CSN employees, so thank you for all you've done and continue to do. As you know, this building will be a game changer for our students when it opens in fall 2021, as it will support the workforce demand in the region for skilled nurses and will expand biology classes so students can move through their program of study faster.
MGM Foundation Supports Scholarships

I want to offer my sincere thanks to the employees of MGM and the MGM Foundation for their generous support of CSN High School with a $40,000 grant toward scholarships. Combined with previous donations, the MGM Foundation's gifts will now support 60 CSN High School students who are working on obtaining associate degrees before they even graduate high school! Thank you, MGM, on behalf of our students.
2020 Census
As you know, 2020 is a Census year and I'm pleased to be working with our other NSHE institutions and the 2020 Nevada Statewide Census Complete Count Committee to make sure all of our students are counted. Participating in the Census opens opportunities to bring valuable resources to our community. Participating in the Census, which is free, fast and confidential, can help bring in more than $67 billion in funding. CSN will be working to host Census Days of Action on campus, in coordination with student government, and I encourage each of you to take part.
It's important to note, the Census will not ask for personal information like citizenship status, or ask for a donation. To learn more, visit www.census.nv.gov
CSN EVENTS
CSN Connections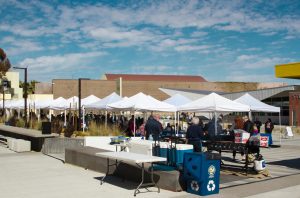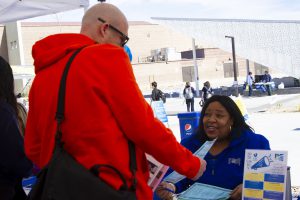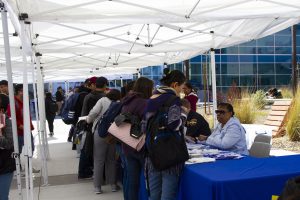 Thank you to all the CSN staff who volunteered at our Spring 2020 Connections events. This is a proud tradition for CSN and helps connect our students to the college. Our staff goes above and beyond each year to make sure our students are taken care of, included cooking up thousands of burgers and hotdogs for them. Thank you all!
Raymond Santana Comes to CSN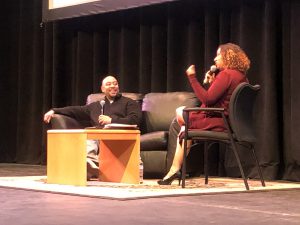 I was so pleased to attend the first Den Talk speaker series with Raymond Santana Jr, one of the five men convicted of the 1989 sexual assault of a woman jogging in Central Park. The men were all later exonerated and have become known as "The Exonerated Five." The daylong visit was an important opportunity for our students and staff to learn from Mr. Santana. The evening culminated with intimate question and answer session led by our very own Natalie Nelson, who is Mr. Santana's cousin. The Nicholas J. Horn theatre was completely full, and we opened an overflow room to welcome all those who came. Thank you to all those involved in planning this event, including student government and Sean Tory.
CSN Ombuds Coffee Corner
Chief Information Officer Mugunth Vaithylingam will join the Ombuds Coffee Corner from 9 to 10 a.m. on March 12 in the Charleston Campus Student Union for an informal gathering with coffee and doughnuts. Please take this chance to stop by, chat with the CIO and the Ombuds and enjoy some coffee.
48th Annual Commencement Ceremony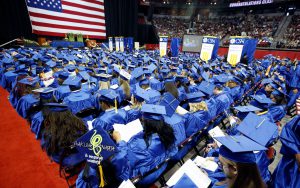 Mark your calendar, our 2020 Commencement Ceremony will take place on Monday May 18 at 6 p.m. at UNLV's Thomas & Mack Center. Commencement is my favorite event of the year and I hope to see you all there as we watch our students graduate and head into the world to prosper.
CSN ENROLLMENT
Spring 2020 Enrollment
Please review the latest enrollment report at the link below. This updated report reflects our spring enrollment through March 2. Visit the Institutional Research web page to see additional enrollment and institutional data.