August 2020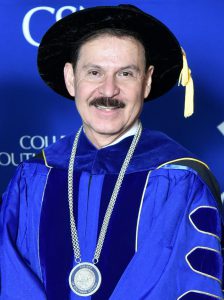 It seems hard to believe but we are weeks away from the start of the fall 2020 semester. While I am excited for the start of a new semester, please know that deliberate care and caution will rule the day. Our Return to Campus plan is designed to be flexible. We have been planning for a mix of online and on-campus classes, but we will be able to shift to an almost entirely online operation should that be necessary to ensure our safety and well-being. That's why when we do return to campus, there will be strict safety protocols in place. These will include mandatory masks, social distancing on campus — including in classrooms — plexiglass in some areas, hand sanitizer stations located throughout campus, and many more measures. I hope to see you all at our virtual 2020 Convocation.
Federico
In This Issue:
Return to Campus
Budget Reductions
Convocation
Diversity summit
Leadership Academy
Campus Commuter
DWED stuff
Schneider Electric
Enrollment and Institutional Data
Return to Campus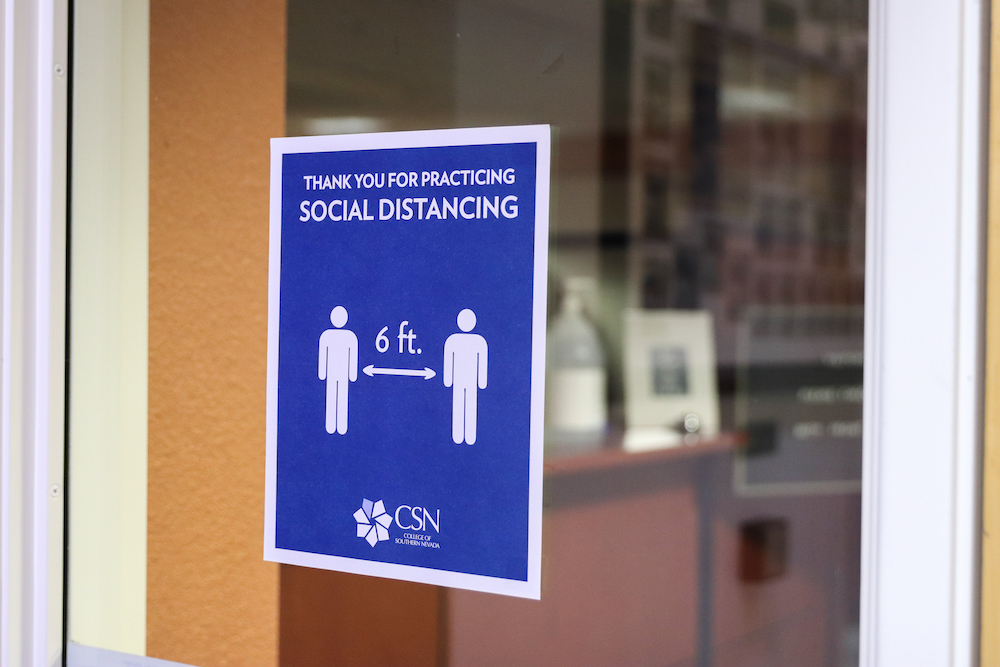 Based on your feedback and input, we have made some adjustments regarding the notification process for those who will return to campus. As you know, many of you will continue telecommuting if your work can be done effectively away from campus. For those who will return, you can expect to receive notice from your supervisor 10 work days before your return. We've also created two temporary return to work categories: Ad Hoc and Urgent.
Those asked to return to campus on an Ad Hoc basis should expect to be on campus for a short period, typically less than four weeks, to complete a project or other work assignment that requires in-person work. These employees will still telecommute once the short-term, on-campus assignment is over. Employees will be given five working days' notice if they are to return for one of these short-term assignments. A member of my Executive Council must give approval for an Ad Hoc return.
Those asked to return for an Urgent need will be called in only for unexpected situations where their services are necessary. Urgent returns require approval from a member of the Executive Council, the Chief Human Resources Officer and the affected Campus Vice President & Provost. These will be extremely limited in nature.
All employees must complete online safety training and complete a daily self-check before returning to campus. You will receive information on the safety training beginning this week, and all employees are expected to complete it this month.
Budget Reductions
Let me start by saying this: If the Board of Regents approves submitted budget reduction plans as expected, there will be no layoffs at CSN. Our budget reduction plan to deal with more than $19 million in cuts includes but is not limited to:
Freezing approximately 50 positions indefinitely;
Reducing operational costs by approximately 50 percent for travel, hosting, printing, supplies, and FFE;
Limiting personnel in facilities, administrative, academic, and student service areas;
Reducing service and possibly closing CSN Hi-Tech and Community Centers, such as those at Nellis Air Force Base, Summerlin, Green Valley and Mesquite;
And limiting the number of accelerated short-term workforce training programs in Health Professions, Information Technology, Logistics and Manufacturing, and Skill Trades (automotive, diesel tech, dental hygiene and dental assisting, veterinary nursing) being designed for long-term unemployed and displaced workers.
Convocation
This year's Welcome Back and Convocation Celebration will be an entirely virtual event. Scheduled for August 15-21, we're combining the activities of Convocation Week with those from the Adjunct Conference this year. It will be available via Microsoft Teams, so please download Teams if you have not yet done so. You will be able to view events such as the awards ceremony and the State of the College speech, attend CAPE sessions, and interact with one another.
Teams will allow for interaction before, during and after conference sessions, and participants will be able to access and review materials within the Teams interface. All sessions will first be broadcast live, then uploaded to the Teams site for easy access to review if participants are unable to attend live, or if they want to see any aspect of it again. Each day will have its own Teams channel to make it easy for participants to find the event or workshop they're looking for.
Please look for much more information soon.
Diversity summit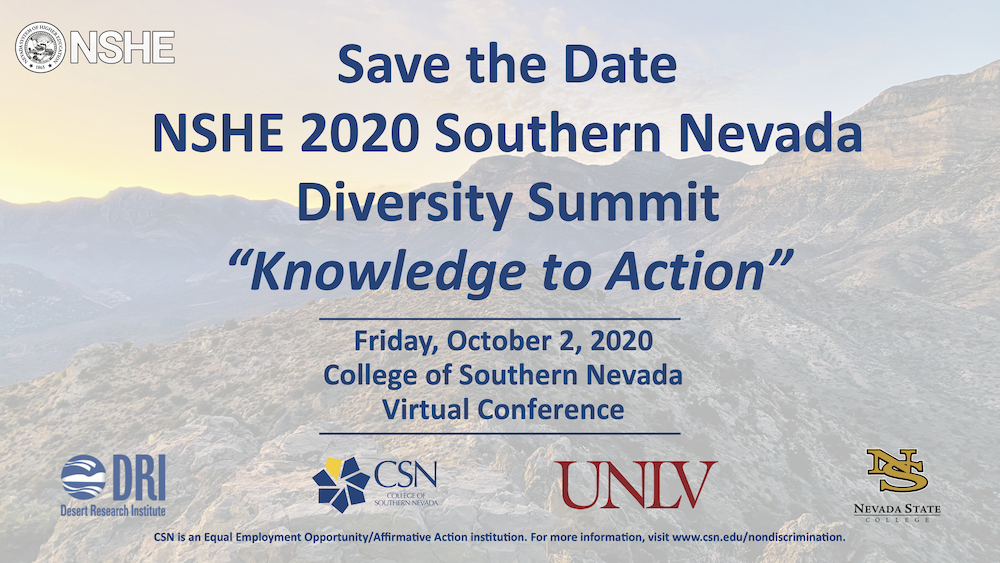 The NSHE 2020 Annual Diversity Summit will also be a virtual event, and CSN is thrilled to be hosting this year. This day-long event is scheduled for Friday, October 2, so please mark your calendars. We will have special guest speakers, workshops, an "Equality for All" forum, and a presidents' panel on how to improve diversity and inclusion in higher education. This year's theme is Knowledge to Action. We will release more information and a registration link in the coming weeks.
Leadership Academy
Congratulations to the summer participants in the CSN Leadership Academy, our personal development and professional enrichment program. A full 100 percent of the Academy's second class met all requirements. These individuals are as follows:
| | | |
| --- | --- | --- |
| Bobbie Barajas | A.B. Bell | Carolina Clavel |
| Ann Marie Compesi | Racquel Crisp | Jenn Daughtery |
| Anne Declouette | Nancy Dolhert | Noemi Flores-Sahagun |
| Eric Garner | Charlene Gibson | Ashley Gonzalez |
| Jason Green | Rosemary Hall | Maggie Harris |
| Mary Ann Hughes Butts | Anne Neumann | Deven Matthews |
| Chantile Mcallister | Iris Melendez | Eileen Metcalfe |
| Sabrina Nethery | Anne Neumann | Connie Newton |
| Cinnamon Oliphant | Charlene Reeves | Lawrence Rodis |
| Vivienne Sario | Michael Schoenberger | Geannina Soto |
| Flecia Thomas | Mary L. Williams | May Wong-Newberg |
| Flora Woratschek | | |
To date, 64 individuals from across the campus have completed the CSN Leadership Academy. The initiative is an open-entry program based on the Covey 7 Habits of Principle-Centered leadership model, with supplemental content in the areas of communication competency, operational style, mediation, and time management/prioritization. Further, the Academy encourages interaction between the various cohort classes to build strong networks across the institution. Plans are underway for the Fall 2020 and Spring 2021 cohorts. For more information, contact Academy director Dr. Gillian Silver at: Gillian.Silver-Rodis@csn.edu
Campus commuter

We have made the difficult decision to suspend the Campus Commuter shuttle service for the fall 2020 semester. We hope we can resume service when it is safe to do so. But given the rapidly evolving pandemic situation we find ourselves in, we can't say when that might be.
The shuttle, which provides transportation between CSN's campuses and to Nevada State College, was begun last semester in response to students expressing the need for more transportation options to campus. During its eight weeks in operation, the Campus Commuter provided 825 rides. Ridership showed growth week-to-week, peaking at 217 rides from March 2-6 before its suspension of service on March 18 when campuses shut down.
Like any transportation pilot program, we need to be able to capture accurate ridership data to set goals, plan routes, and determine demand for it to be successful. Over the coming weeks, we will evaluate the program and determine how it might best service students in the future if health conditions permit.
DWED
Our Division of Workforce & Economic Development has been hard at work. As CSN begins to train and retrain the region's workforce during this economic downturn, DWED will become ever more important to the college and our community.
The division's Adult Career and Education Services Program was recognized by the state for "Most Improved" in the state and "Top 3 Performer for Measurable Skill Gains." This new program has classes that start year-round and are provided at no or low cost to qualifying students. The program provides valuable training, certifications, and experience to help students succeed.
I'm also pleased to report that DWED employer partner DaVita donated six dialysis machines for the Dialysis Technician program via retired Program Coordinator Sue Folds.
The division is partnering with CCSD to provide an online Diversity Training platform for educators. Training will give an introductory overview of cultural competency and cultural sensitivity as framed by CCSD, to bridge cultural gaps through inclusive practices and more effective communication, and empower teachers to infuse the cultural and linguistically responsive teaching framework into their professional practices.
Finally, we are working with local employers to streamline the difficult process of reopening businesses in this COVID-19 environment. These online courses are designed to help employees return to work safely, and to help employers understand the OSHA and CDC guidelines for preparing and maintaining the workplace.
Schneider Electric

Schneider Electric's work with CSN received a Top Project of the Year Award in the Environment + Energy Leader Awards program. The partnership between Schneider and the CSN Foundation dates back over 20 years, and we are incredibly grateful for their continued support. Schneider Electric provides EcoStruxure products to CSN so students can learn on technology that they will encounter in the real world, hires CSN students and graduates to intern and work in the field of intelligent buildings, and recently contributed $100,000 to support the new CSN and Nevada State College Englestad Health Sciences building.
Enrollment and Institutional Data
To review the latest enrollment data, visit the Institutional Research Data Dashboard. The site houses publicly available interactive reports created to support institutional decision making.