Yesterday, I had the privilege to help honor two individuals, who have given much of their time, energy and passion to help their community, with the U.S. President's Volunteer Service Awards.
 The President's Council on Service and Civic Participation was established in 2003 to honor volunteers and their contributions. It takes a tremendous amount of time to earn one of these awards. It's no easy feat.
CSN student Dustin Rains completed 450 hours of community service this past year at organizations such as Catholic Charities, Opportunity Village, Nevada Partnership for Homeless Youth and Three Square. He did this while working at the CSN Foundation, taking classes and serving student government. He's the incoming student body vice president for this next school year. In addition to what are clearly excellent time management skills, Dustin is also motivated to improve. Next year, he hopes to do 1,000 hours of volunteer work. To put that in perspective, that's nearly a third of an entire year in terms of the typical eight-hour workday.
I also had the privilege of honoring one of our own faculty members, Linda Gannon, from the Department of English. Linda performed 300 hours of community service. She volunteers with the Nevada SPCA and tours local schools to teach children about responsible pet ownership. She is chair of the CSN Henderson Campus' Communities in Schools Partnership and coordinates activities to help students at Hinman Elementary. She goes further than volunteering her own time and schedules at least one group volunteer opportunity with her students each semester, requiring each of them to do what we call a service learning project. Her students go out and work with organizations such as Three Square, Habitat for Humanity, College Park Rehabilitation Center and others and see how their volunteer service makes a difference.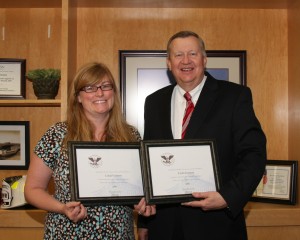 I am so proud of these two individuals and hope that they can inspire all of us to give more of ourselves. I think our community needs this now more than ever.