Each academic year, CSN's One Book, One College (OBOC) program chooses a book for the CSN community to read, discuss and connect with. The 2019-20 selection, Alan Alda's If I Understood You, Would I Have this Look on my Face? brought the CSN community together in classes, at events and through an art contest to explore how to communicate better.
For this spring semester's OBOC art contest, CSN's student artists were asked to create a work of visual art on the theme of communicating powerfully. World languages professor David Schultz said, "Presenting this challenge to the students to represent communication, or the lack of it, through art was a wonderful means to wed reading and art, and the students came through magnificently!"
Twelve students rose to the challenge and competed for three cash awards and the opportunity to have reproductions of their artwork displayed in the campus libraries. Students had to include a one sentence caption explaining how their work of art relates to the challenges and joys of communicating powerfully.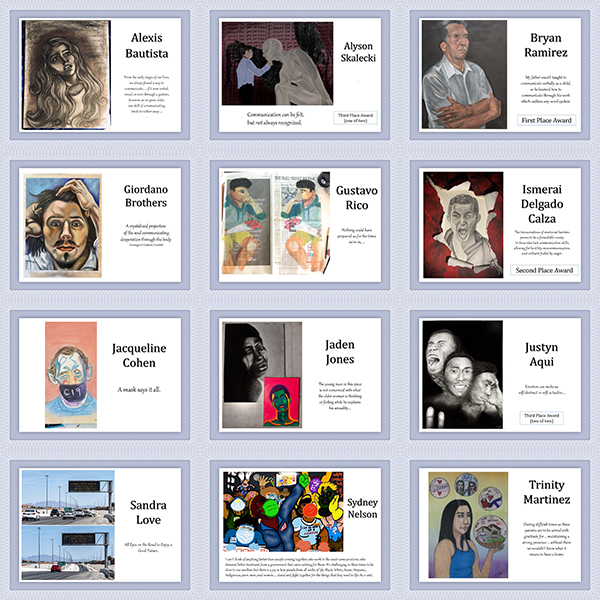 A panel of CSN faculty comprised of librarian Jack Sawyer and art faculty Suzanne Acosta, Cynthia Behr, and Sean Russell judged the art based on impact of the image, overall creativity and if the caption related the artwork to the challenges and joys of communicating powerfully.
Here are the winners!
First Place: Bryan Ramirez "My father wasn't taught to communicate verbally as a child, so he learned how to communicate through his work which outlives any word spoken."
Second Place: Ismerai Delgado Calza "The transcendence of emotional barriers proves to be a formidable enemy to those who lack communication skills, allowing for hostility, miscommunication, and outburst fueled by anger."
Third Place (tie): Alyson Skalecki "Communication can be felt, but not always recognized." Justyn Aqui "Emotion can make us self-destruct or self-actualize…."
Congratulations to the winners and much gratitude to all of the students who submitted their artwork! Our Library website will soon have information about when the artwork will be displayed in the campus libraries, as well as a resource guide for the next OBOC book selected for the 2020-21 year: The Happiness Hypothesis: Finding Modern Truth in Ancient Wisdom by Jonathan Haidt.