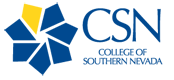 Students still have time to register for the spring 2018 semester
LAS VEGAS, Jan. 12, 2018 – More than 30,000 college students will converge on the College of Southern Nevada's three campuses this week as classes begin Tuesday, Jan. 16 for the spring 2018 semester.
CSN will have teams of people on each campus to help new students find where they need to go and connect them with whatever student services they may need. This Welcome Back Crew has become a semi-annual tradition at the college, the largest and most diverse higher education institution in Nevada.
"I am excited about the new year and the start of another semester," said Margo Martin, CSN's vice president of academic affairs. Members of the media are welcome on campus any time to talk to students about the new semester.
Students have until the end of the day on Jan. 22 to register for classes.
What:             First day of classes at CSN
When:             Tuesday, January 16
Where:            Campuses in Las Vegas, North Las Vegas and Henderson