Students from the College of Southern Nevada's Videography & Film Program won five Student Production Emmy Awards from the Pacific Southwest National Academy of Television Arts and Sciences earlier this month.
Student wins included:
Randy Sly's film "Swipe" in the Student Programming – Long Form category
Raul Saldivar and Leonel Saucedo's project "Aria Food Commercial" in the Student Programming – Commercial and Student Craft – Photographer categories and
Justin Steele's short film "The Call" in the Student Craft – Editor and Student Craft -Director categories
The longest of the films, at 20 minutes, Sly's "Swipe" was created in CSN's most advanced portfolio class. The film is an online dating romantic comedy, taking its name from the swiping feature used on many online dating websites.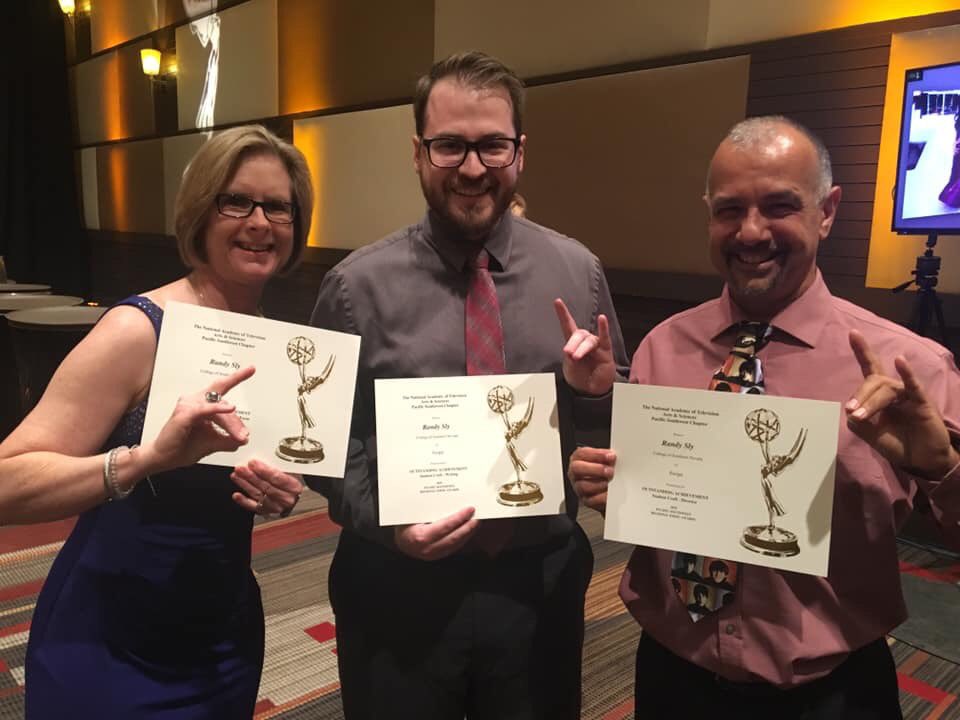 The story follows Chris, who is in love with his neighbor down the hall, Carly. The lead actor and actress are a couple in real life.
Saldivar and Saucedo's project was inspired by underwater photos and videos, according to the students. Saldivar is continuing his studies at CSN, but Saucedo has already graduated and is using connections made at CSN to work in the film business.
"The best part about CSN's program is that you get hands-on experience," Saucedo said.
"You do your own films. You work with other students. You work as a team, you become friends with other students. You meet people and then you get jobs. My first job was from this student from CSN, she called me about a TV series and asked 'Do you want to join?' I knew her because I had helped her on a student film."
Steele's film "The Call," was a project created in CSN's Video 1 class. Steele wouldn't have thought to enter the film into the contest if it weren't for the urging from John Aliano, the program director and instructor.
The emotional film follows a professional athlete, who starts his morning listening to a voicemail, before going about his day. The film eventually reveals the voicemail was an old voicemail from the athlete's father, who had passed away.
Steele drew his inspiration from a personal friend of his, Nick Hecht, who did lose his father, Steven. While the beginning voicemail in the film is a voiceover actor, Steele was able to incorporate a real voicemail Steven left Nick at the end of the film.
When a clip of Steele's film was shown at the awards ceremony, that's the part that was highlighted.
"When you win, they play clips of the pieces to give people an idea, that's one of the clips they chose to use. That was pretty cool," he said.
For more on the videography and film program at CSN, visit: https://www.csn.edu/programs/videography-film