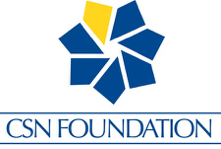 For Immediate Release:
Contact: K.C. Brekken, CSN Foundation Executive Director, 702-651-7535 or kc.brekken@csn.edu
The MGM Foundation award will support the tuition-free, last dollar scholarship at CSN.
LAS VEGAS, March 9, 2018 – College of Southern Nevada Acting President Margo Martin announced Friday that the MGM Foundation has awarded CSN's Promise Program $80,000 to support the implementation of the tuition-free scholarship at the college and provide low-income Promise scholars with dollars for textbooks.
"We are incredibly grateful to the employees at MGM Resorts International and the MGM Foundation for their support of this important program. They are our Promise champions," Martin said. "This award is critical to ensuring that CSN can successfully implement this scholarship and expand the college-going pipeline in Southern Nevada."
The CSN Foundation submitted a proposal to the MGM Foundation's Community Grant Fund competition this fall. The grant will help pay for background checks for mentors, a new online program to facilitate mentor-mentee interactions and textbooks for low-income students who receive the Promise scholarship this fall.
"We believe education bridges the divide between poverty and progress in America," said Shelley Gitomer, Vice President of Philanthropy & Community Engagement for MGM Resorts International. "We are proud to help the Nevada Promise Program succeed in its inaugural year."
The 2017 Legislature created the new Nevada Promise Scholarship Program, which allows any high school senior an opportunity to obtain tuition-free college at any of the state's public two-year institutions. To earn the scholarship, students must apply and then complete two college trainings, 20 hours of community service, the federal financial aid application and meet with a mentor before May 1 of their senior year, among other requirements once at CSN. Lawmakers approved $3.5 million to cover eligible Promise recipients' tuition and fees, minus any other financial aid they receive. However, it did not provide dollars for colleges to implement the program and required activities in the legislation including background checks for the mentors can be costly.
"Mentors are key to the success of Promise scholars. With this award, we will be able to purchase a new cloud-based software program that will allow our volunteer mentors to engage their Promise scholars once they are at CSN in a monitored online environment," said Maria Marinch, CSN's Executive Director of Inclusive Learning and Engagement. "That way, even when they cannot meet with their students in person, they can use this platform to regularly check in on their students to ensure they're staying on track."
The program is expected to increase the college-going rate of high school graduates and the number of federal financial aid dollars coming into Nevada to pay for postsecondary education and workforce training. In Southern Nevada, more than 5,200 high school seniors are working to obtain their Promise scholarships to attend CSN this fall as part of the first cohort of Nevada Promise scholars.
About the CSN Foundation:
Founded in 1971, the College of Southern Nevada is the state's largest and most ethnically diverse higher education institution. CSN is accredited through the Northwest Commission on Colleges and Universities and specializes in two-year degrees and workforce development that lead directly to high-demand careers or transfer to a university. It also offers four bachelor's degrees in specialized fields and is the state's largest provider of adult basic education and literacy training. CSN is a Minority Serving Institution and Nevada's first Hispanic Serving Institution.
The CSN Foundation supports the strategic initiatives for CSN by raising funds for facilities and capital improvements, scholarships, educational programs and faculty requirements.
#   #   #