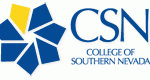 For Immediate Release:
Contact: Richard Lake, CSN Public Relations Specialist, 702-651-7715, Richard.Lake@csn.edu
It's Time to Register for Next Semester at Your Community's College 
CSN is expanding some important success initiatives that will affect new CCSD graduates
LAS VEGAS, April 27, 2015 – Enrollment for the fall 2015 semester begins May 22 for new students at the College of Southern Nevada, while current students can register beginning May 4. Enrollment for the summer term has already begun.
To kick off the enrollment season, and to remind students of the services CSN has available, the college is holding CSN Connections events on all three campuses. These events, scheduled for April 28, 29 and 30, will feature food and games, information about all of the academic advising programs CSN officers, transferring, scholarships, help with fall 2015 enrollment, orientation and more.
As part of CSN's focus on long-term student success, CSN is mandating academic advising and orientation for 2015 graduates of the Clark County School District, as well as placement tests in math, English and reading. It's an expansion of a policy the college instituted last year, which preliminary data shows has been a success. CSN now requires the completion of reading assessment because evidence shows that these assessments can increase student success. Previously, reading assessments were not required, and recent high school students who had earned credits at CSN (through dual enrollment programs) were not required to participate in these steps.
"This expanded policy is all about student success," said James McCoy, CSN's associate vice president for academic success.
CSN expects about 3,500 CCSD grads to participate in the pre-enrollment program. If the initiative continues to be successful, it will be expanded to include all new CSN students.
What: CSN Connections
When: Tuesday, April 28, Henderson campus, 10:30 a.m. to 2 p.m.
Wednesday, April 29, Cheyenne campus, 10:30 a.m. to 2 p.m.
Thursday, April 30, Charleston campus, 10:30 a.m. to 2 p.m.
Why: To help CSN students connect to their college and succeed
About CSN:
Founded in 1971 and educating thousands of students a semester, the College of Southern Nevada (csn.edu) is the state's largest and most ethnically diverse higher education institution. CSN students can choose from 180 degree and certificate options in more than 100 areas of study, including more than 25 degree and certificate programs available entirely online. Students create flexible, personalized schedules, including day, evening, and weekend classes taught on three main campuses and multiple locations throughout Southern Nevada. CSN — your future starts here. CSN is an Equal Employment Opportunity/Affirmative Action institution. For more information, visit http://www.csn.edu/nondiscrimination
# # #