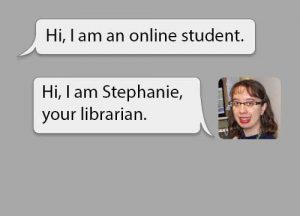 Midterm projects have been turned in. Finals are coming up. And you know you've got that research paper due at the end of the semester. Between work, class, children, parents, friends, chores, and life in general, it can be hard to find the time to work diligently during the week to make progress on those long-term assignments. Sometimes the only free time you can snag is Sunday night after work, after dinner, after the kids have gone to bed.
But when you're working on a research assignment and don't know where to begin, who's going to help you on a late Sunday night?
CSN Libraries—that's who.
If you haven't heard of our online chat, you're missing out on a great resource to help answer your questions—from finding sources to citing them in proper citation style and more—all through instant messaging. You don't even have to leave the comfort of your home.
The "Questions? Ask Us!" button is on nearly every page of the library's website, in the upper right-hand corner, and takes you to a page with all the ways you can get in touch with a friendly librarian. That includes phone calls, e-mails, and, our online chat (great for distance students who can't come to campus too!).
Regular semester hours for chatting with a librarian are:
Monday to Thursday: 10am-10:30pm, Friday to Saturday: 10am-5pm, and Sunday: 9pm-11pm
That's right, even Sunday night you can get assistance from a librarian—which comes in handy if your paper is due Monday morning!
So if you need research help, citation help, or have questions about finding sources for your assignment, don't forget you can always ask a librarian, even late at night! We hope to talk to you soon!