Churchill once said, "The longer you can look back, the farther you can look forward." As we reflect this October on a number of national and cultural celebrations – from LGBT and Filipino American history month, to Hispanic and Polish Heritage, as well as our very own Nevada Day observances, it's important to consider how accessing the past can help unlock our understanding and experiences in the world today.  
At CSN Libraries, our variety of databases provide access to historical newspapers, films, newsreels and images, as well as a number of high quality academic journal articles that deliver modern interpretations and analyses of historical events from the dawn of humanity to current world affairs.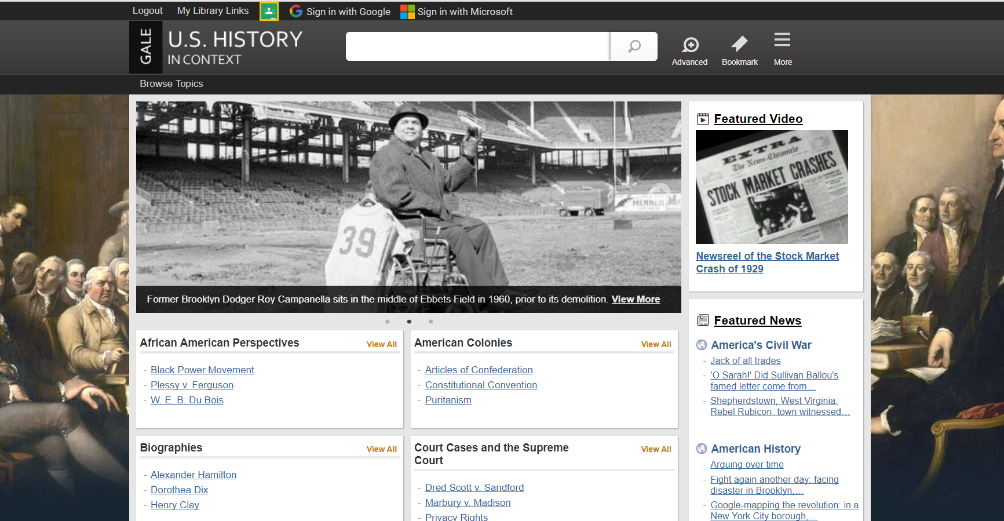 If you're looking to write an essay or speech about a particular person/figure or event in United States history, but need more contextual information about that time period (i.e. what life was like, what was going on in the world at the time), we encourage you to explore the U.S. History in Context database. Here you'll have access to a number of primary sources (original documents, newspaper articles, letters), as well as reference information, images, audio, and video clips that will help you shape your understanding of the topic and demonstrate its historical significance.  
You may also consider utilizing our numerous film and video resources that invite you to step back in time and experience the past visually by accessing archival films and historical newsreels from Films on Demand, or watching expert commentary of world events through World History on Video.
To browse all of the History databases available to students, faculty, and staff from CSN Libraries, click here, or:
Visit the

CSN Libraries home page

and click on the box,

Browse Databases

Select "History" from the

All Subjects

drop-down menu

Use the

All Database Types

drop-down menu if you would like to explore only specific resources such as images, streaming video, or eBook collections.

Browse the A-Z list of resulting databases and select one to let the fun begin!
Incorporating information and resources from our History databases is an easy way to give your work an extra boost and demonstrate your engagement with the subject matter you are presenting – and with the variety of content available to you through CSN Libraries, the possibilities will take you as far as your imagination!