If you have not yet had the opportunity to write literature papers for English classes, and you now have that assignment coming due in a few weeks, you do not have to panic. While there are some unique aspects to writing and researching about literature, as opposed to other subject areas, your best advice is to begin by keeping to the same basic strategies that you would use for any research paper.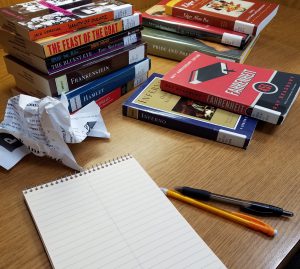 Start by reading the primary literary work thoroughly for your own sense of what it means. Sometimes reading a scholarly analysis from the secondary literature can help you better understand the work, but be careful not to get overwhelmed by other interpretations.
If your instructor wants you to avoid summarizing the work, what exactly is expected of you? Are you expected to identify themes and techniques and show how they work? Most often, the assignment is to propose an argument for a particular interpretation of a work. Sometimes you'll be asked to compare and contrast one literary work with another. In that case, your argument could turn around different plots, characters, or possible interpretations.
Once you have found your approach, try to create a good thesis statement that reflects your particular argument. How will your argument unfold? Will you contrast techniques like narrative voice in fiction or the gradual shaping of a character's identity. Be sure to visit a Writing Center for help on this process.
With a good strategy in mind, you might start your research by asking a librarian for help selecting keywords. You'll probably have a two- or three-sentence thesis statement. Identify the keywords and phrases from your statement to use in One Search – the search box located on the Libraries website. If for example, you want to argue that the tragedy of Romeo and Juliet is about the different ways that old and young people view romantic love, your keywords could be Shakespeare and romantic love.
Then click on Browse Databases and select specialized resources that will help you to support your argument with scholarly insight. Best bets include:
Literature Resource Center – The LRC is a comprehensive database for full-text critical and literary analysis. You will find scholarly articles, topic and works overviews, and biographical information. All time-periods and genres are covered.
Twayne's Author Series – This resource will give you access to a collection of ebooks that cover concise critical introductions to world authors and their major works. This is a great starting place to fill-in the knowledge gaps and gain some background information on authors and their works.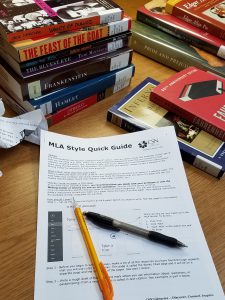 MLA Citation Help – Most CSN ENG papers are formatted using the Modern Language Association style. Click on Research Help at the top of each page on the Libraries website. Choose How to Cite. You will find a complete guide for both the 7th and 8th editions of MLA. Choose Additional Citation Resources to find a complete sample MLA paper. CSN librarians are always happy to help you with the research and citation process. Visit a Writing Center for assistance with proofing and editing your paper.
Take a deep breath – we are all here to help you get this assignment completed!